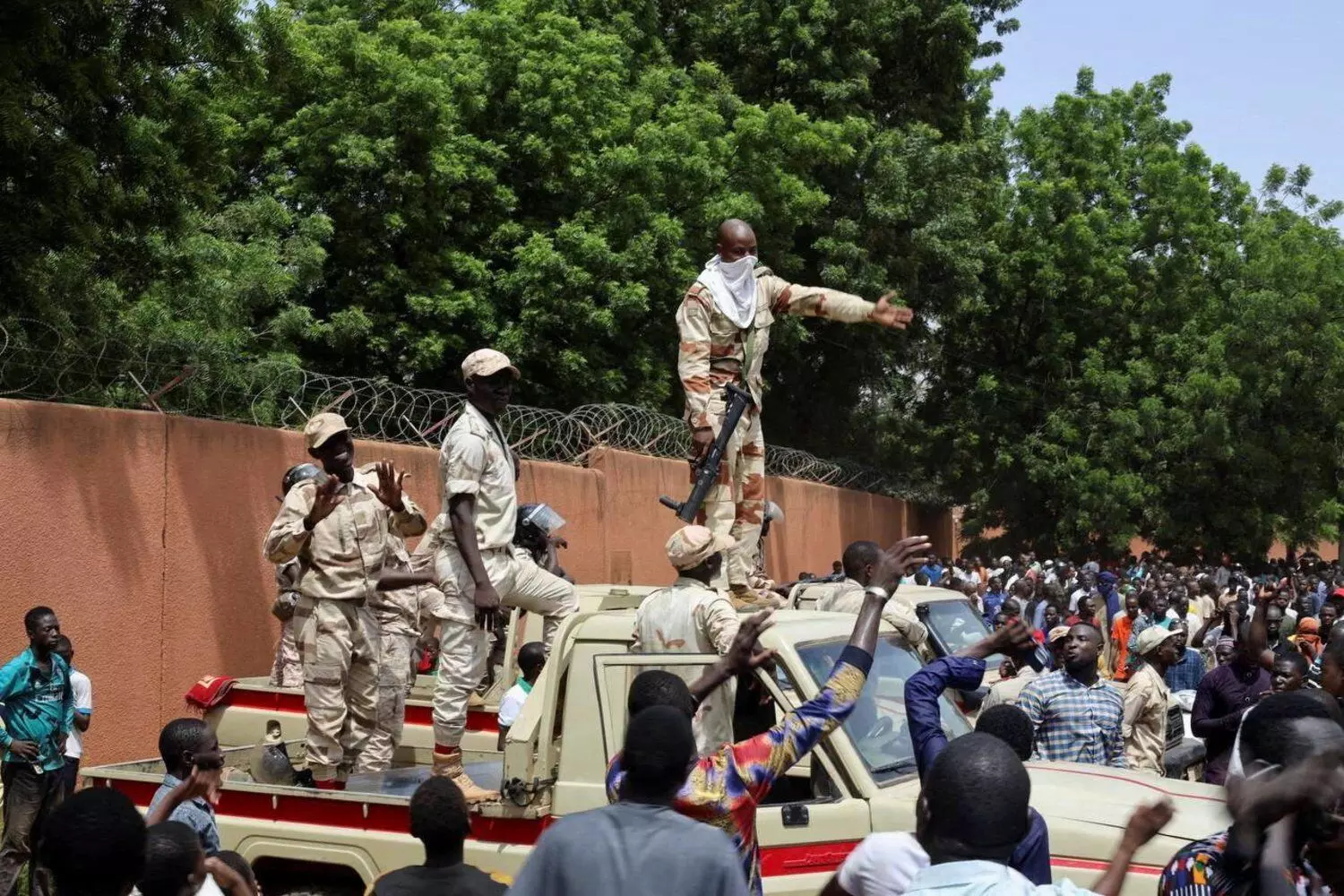 With the recent incident, six African countries – Burkina Faso, Chad, Guinea, Mali, Sudan and Niger – are now under the control of military dictators.
When ECOWAS celebrated its 50th anniversary in 2015, one of the achievements it highlighted was the increasing wave of democratisation in the West Africa sub-region.
Since the beginning of the 1990s, there had been a great measure of political stability in West Africa in particular and sub-Saharan Africa in general, with the last military regime removed from Guinea Bissau in 2014.
Many had cautioned that desirable as the records of democracy are, there were also questions about sustainability and quality leadership, which, if not entrenched, could derail the process.
Development experts warned that sub-Saharan Africa, a region host to some of the world's poorest nations, risked a threat of political instability.
Indeed, the Republic of Benin, The Gambia, Guinea, Mali and Burkina Faso are high on the list of countries with low human development indices.
The recent coup in the Niger Republic, which saw elected President Mohamed Bazoum toppled in a bloodless palace coup and held by the military since July 19, marks a watershed in the history of West Africa.
The region does not only share a history of political emancipation from colonial powers, but it has also had its share of military regimes with devastating civil wars in Sierra Leone, Liberia Cote d'Ivoire and Mali.
Now, with the new wave of political instability blowing across the region military coups are back and on the rise as they were before the 1990s.
For context, in the space of three years, there has been nothing less than seven coups in Africa, with West Africa responsible for five of them.
With the recent incident, six African countries – Burkina Faso, Chad, Guinea, Mali, Sudan and Niger – are now under the control of military dictators.
Citing rising insecurity and poor economic situation, the head of Niger's Presidential Guard, Gen. Abdourahamane Tchiani has not only declared himself president but also warned against external interference.
The President Bola Tinibu led-regional bloc, ECOWAS, ultimatum to Tchiani and his usurpers to return Bazoum to power which expires this week has fallen on deaf ears.
The have remained adamant even in the face of raft of international sanction including travel bans and threats of more.
Experts say although those factors cannot be ignored, there are other deep-rooted dynamics that are contributing to the fragility of civil rule in West Africa.
Dr Olayinka Ajala, senior lecturer in politics and international relations at Leeds Beckett University, UK, said the coup in Niger is an indication that the military had not fully embraced democracy.
"Despite the increase in foreign forces, especially from the US and France, and military bases in Niger, the leadership has been unable to stop insurgent attacks.
"These attacks have resulted in thousands of deaths and displacements in the last decade. Hundreds of youths in the capital, Niamey, gathered to celebrate the July coup, waving Russian flags and chanting 'Wagner'.
"This suggests that some people in Niger believe the military, supported by Russia and the private military contractor, Wagner Group, would do a better job of fighting insurgents", the don said.
Ajala said other issues also contributed to the coup d'etat, including Bazoum's ethnicity and legitimacy, Niger's military composition and the failure of regional organisations such as ECOWAS and AU to take a firm position against military power coups elsewhere.
Already, the coup plotters have shown defiance, warning that: "we want to once more remind ECOWAS or any other adventurer of our firm determination to defend our homeland."
Conflict management experts warn that the use of force to reinstate Bazoum could backfire and further destabilise the region with ramifications for neighbouring countries.
They said, already, the conflicts that sprang up in the region in the 1990s portrayed ECOWAS as an organisation incapable of fostering peace within the region.
Since it was founded in 1975, the need to respond to its peace-keeping responsibility has swung the bloc's focus from the core agenda of economic integration.
For much of the 1990s and early 2000s, the need to resolve conflicts overtook measures towards economic cooperation and integration within the region.
In response to the regional body's ultimatum, the military governments in Mali and Burkina Faso have indicated the possibility of the situation escalating into a regional war. Their antecedents show that this is not grandstanding.
Recently, they issued a joint statement, threatening to withdraw their ECOWAS membership and rise in support of Niger's military junta.
"Any military intervention against Niger would amount to a declaration of war against Burkina Faso and Mali," the statement said.
AU's own 15-day ultimatum issued to Niger coup plotters has not been greeted with much enthusiasm by many experts who say the body is notorious for its ineffectiveness.
In Nigeria, the situation in Niger is being monitored very closely for various reasons, including the country's proximity, Nigeria's leadership position and fear of a looming humanitarian crisis.
Former Commonwealth Secretary General, Chief Emeka Anyaoku, warned at a forum that the elements involved in destabilisation of Niger were not far from Nigeria.
"What had happened in Niger should be of major concern to us here in Nigeria on a number of grounds.
"The first is that we thought that we have seen the end of military coup d'etat, and the end of unconstitutional change of government in West Africa.
"Niger is one of our neighbours, so what happens there is bound to affect the security and stability in our own country.
"The elements involved in the destabilisation of Niger are not far from Nigeria. We should be very conscious," said the diplomat.
With foreign military forces being forced out of their bases by military rulers, experts also warn that the sub-region risks an increase in insurgency and violent extremism.
Mr Icha Ezekiel, a regional security expert, warned that by opening their doors to Russia through Wagner, West African countries are merely replacing one form of colonialism with another.
"The toppled president showed great interest in the fight against insurgents and extremists and collaborated with neighbouring countries including Nigeria.
"Those chanting and waving Russian flags have no idea what Putin's interest is and why his new incursion into Africa cannot be a blessing", he said.
As Anyaoku said, it is disheartening that West Africa has not seen the end of coups, nine years after the last junta fell.
While experts agree that the worst democracy is better than the best military dictatorship, they say for democracy to be deepened, politicians must deliver on its dividends to the masses.
By Kayode Adebiyi