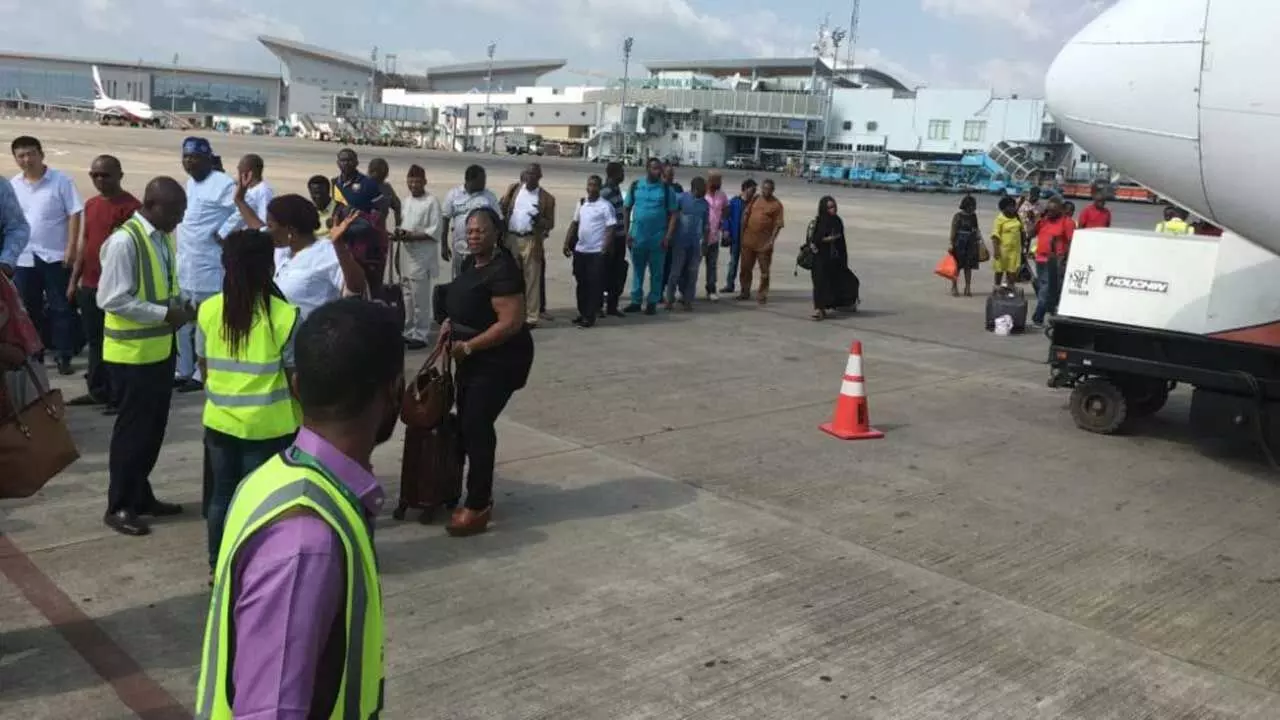 The minister said that legal framework to forestall such incident in the aviation sector had been put in place.
The Minister of Aviation, Hadi Sirika, has apologised to air passengers over inconveniences caused by the recent strike by aviation workers which disrupted flight operations.
Sirika briefed State House correspondents after the Federal Executive Council (FEC) meeting presided over Vice President Yemi Osinbajo on Wednesday at the Presidential Villa, Abuja.
Flights were delayed on Jan. 23, when the Nigerian Aviation Handling Company Plc (NAHCO) embarked on strike.
The minister said that legal framework to forestall such incident in the aviation sector had been put in place.
"This is very important to the traveling public; first we apologise to them, our teeming passengers in this difficult moment.
"Secondly, this will not happen in the future by the grace of God.
"And the reason is simple, aviation is an essential service, the bill has been assented to by the president so strikes and riots around our airports are prohibited by the laws of the land; and now that we have the act in place and assented by the president and passed by the National Assembly.
"We will deal with it according to the law."
According to him, efforts are being made to ensure no essential service is disrupted by anybody no matter how aggrieved.
He said there were other channels of channeling issues when they arose but they were not permitted to go on strike because aviation was an essential service by the law of the land.
"I will give you an example; there was an airline that had to return to base because it couldn't land.
"Imagine if there was a patient on that aircraft? Imagine somebody attending to a very serious issue or matter at hand or business or a student trying to catch with an exam and then because of somebody who is aggrieved some other person will die.
"Government will no longer allow that; so it is in the law of the land, check the Federal Airports Authority of Nigeria (FAAN) Act, it going to take place soon; in fact now, from today, we will not allow that."
Sirika, however, said that the government was open to listen to any grievances.
According to him, there are procedures for dealing with such grievances raised by aviation workers.
"They should please desist from this; it is wrong; it is inhuman; it is not allowed; it is not permitted and we will not be permitting any longer."
Sirika said that the ministry got among others, council's approval for the rehabilitation and reconstruction of the Hadejia airstrip.
According to him, the total sum is N7.5 billon for a period of 18 months; and this contract is going to Messrs CCECC.
"Then there is the construction or control tower and technical building in Enugu.
"The company is Messrs Mascot Associates Limited. And it is N1.9 billion.
"And the third contract is for procurement of utility vehicles, to MSSRs Kaura Motors at N625.5 million.
"These are the memoranda and they have all been approved by council today," he said