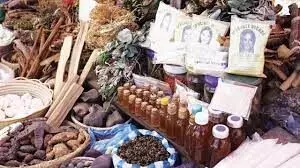 Maikudu said that China and India had long enacted traditional medicine laws and are harvesting its dividends locally and internationally.
The National Association of Nigerian Traditional Medicine Practitioners (NANTMP) has called on the National Assembly speedily pass the National Traditional Medicine bill for the overall well-being and economic prosperity of the nation.
The National president of NANTMP, Dr Shaba Maikudi, made the call at the official inauguration of the newly elected executive members of the association on Monday in Abuja.
Maikudi also urged President Bola Tinubu not to delay in assenting to it after the passage as well as ensuring its effective implementation.
He said the "bill is aimed at sanitising the profession as well as ensuring the development of roots and herbs profession among others."
Maikudu said that China and India had long enacted traditional medicine laws and are harvesting its dividends locally and internationally.
He said NANTMP was working with some foreign embassies like China, Indian and the Republic of Switzerland on some exchange programmes on traditional medicine.
"Today NANTMP remains a foremost trade union in the country with their presence in all local governments and communities in Nigeria.
"In our new tenure, we have resolved to sustain our dynamic moment by implementing lofty visions that will promote our image, welfare of our members and corporate health care of all Nigeria.
"We intend to secure plots of land in Abuja municipal for a befitting National Secretariat.
"We will lobby state governments to establish traditional medicine board in all the 36 states of the Federations including FCT," he said.
Maikudu said the new executive would also liaise with relevant government agencies for the establishment of Federal College of Traditional Medicine Technology to collaborate with research institutions.
He said that effort would be made to establish department of traditional Africa medicine in selected universities across the country.
Maikudu called on practitioners to liaise with the Federal Ministry of Health to promote government policy on data capturing for the practitioner to meet with World Health Organisation Standards (WHO).
The formal Secretary General of NANTMP, Prof. Mohammed Njawa, advise Nigerians and Africans to be proud of traditional Medicine and call it "our heritage and pride"
Njawa urged Nigerians to fight together to ensure the National Traditional Medicine bill was passed and implemented.
"Nigerian traditional medicine policy is part of 2007 policy draft but after the end of 2022, the policy was not implemented that's why we are calling for review and it has been validated and accepted," he said.
He said that NANTMP was collaborating with Ministry of Science and Technology and Raw Material Research Council to move forward traditional medicine in Nigeria.
He said that traditional medicine would not support the benevolent of foreign traditional medicine.
"We are here to develop our own indigenous medicine and we are proud of Africa Traditional Medicine," he said.
Senior Scientific Officer, Federal Ministry of Innovation, Science and Technology, Mrs Aina Folasade, said the ministry mandate was to ensure promotion of health of the nation through research innovation.
She said it was also to ensure promotion of the potential of traditional medicine for the wellbeing of the nation.
"We are aware that (FMISt) is collaborating with NANTMP and I pray through this collaboration you do as expected and even beyond," he said.
Head of Commerce, High Commission of India in Nigeria, Pranay Sinha, said that India would collaborate with Ministry of Health, WHO and the National Traditional Institute for the establishment of traditional medicine hospital.
"Next time I want to come here I want to see that traditional medicine in Nigeria has become more established and flourish," he said.