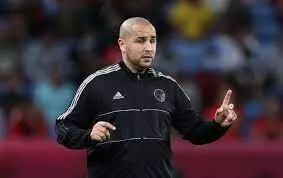 "Our players did their best to be in the quarter-finals of the competition and I raise my hat to them."
Algeria's coach Madjid Bougherra on Sunday expressed his satisfaction with his players' performance in the group stage of the African Nations Championship 2022 (CHAN) in Algiers.
This was after the Desert Foxes clinched a 100 percent record in the group stage after matches in Group A of the tournament they are hosting were concluded on Saturday.
The hosts sealed their third victory of the tournament at the expense of Mozambique with a slender 1-0 victory on Saturday at Nelson Mandela stadium in Algiers.
"Our players did their best to be in the quarter-finals of the competition and I raise my hat to them.
"We are currently in the quarter-finals and happy because we did not concede any goals in the three matches.
"We played well in the first half against Mozambique but they pressed us in the second and we did well to defend," said the coach.
"We had opportunities to get into the dangerous areas but we were a bit unlucky with the final finish. It is great that we did not concede goals.
"There are some cases that we must take into account, and there are also things that we must do carefully, and I repeated several things with the players which they are gradually getting right," he added.
Bougherra also touched on the close relationship he has built with the first team coach, Djamel Belmadi, who has been in attendance at all of Algeria's matches in Algiers.
"Belmadi is part of our preparations and encourages our players. He has been in contact with us for a long time and I give him some reports regarding the playing system.
"He follows the players closely and the players are happy to have his support. The coach is also a close friend of mine. So, his support is really appreciated."
Bougherra also defended his players on some of the casual mistakes made in their matches.
"It is true that in the match there are positive and negative things. Against Mozambique we focused on direct play. Everyone looks at football in their own way.
"We must respect our players who do their work and should be saluted. We are ready to listen to criticism, but we must encourage them. I know that our players are under pressure, but they have achieved three victories".
The coach added he he was happy their next match would still be in Algiers as the support from the locals played a crucial role in their good run at the group stage.