Entertainment
Rugged steps foundation celebrates 14 years of advocacy in persons with special abilities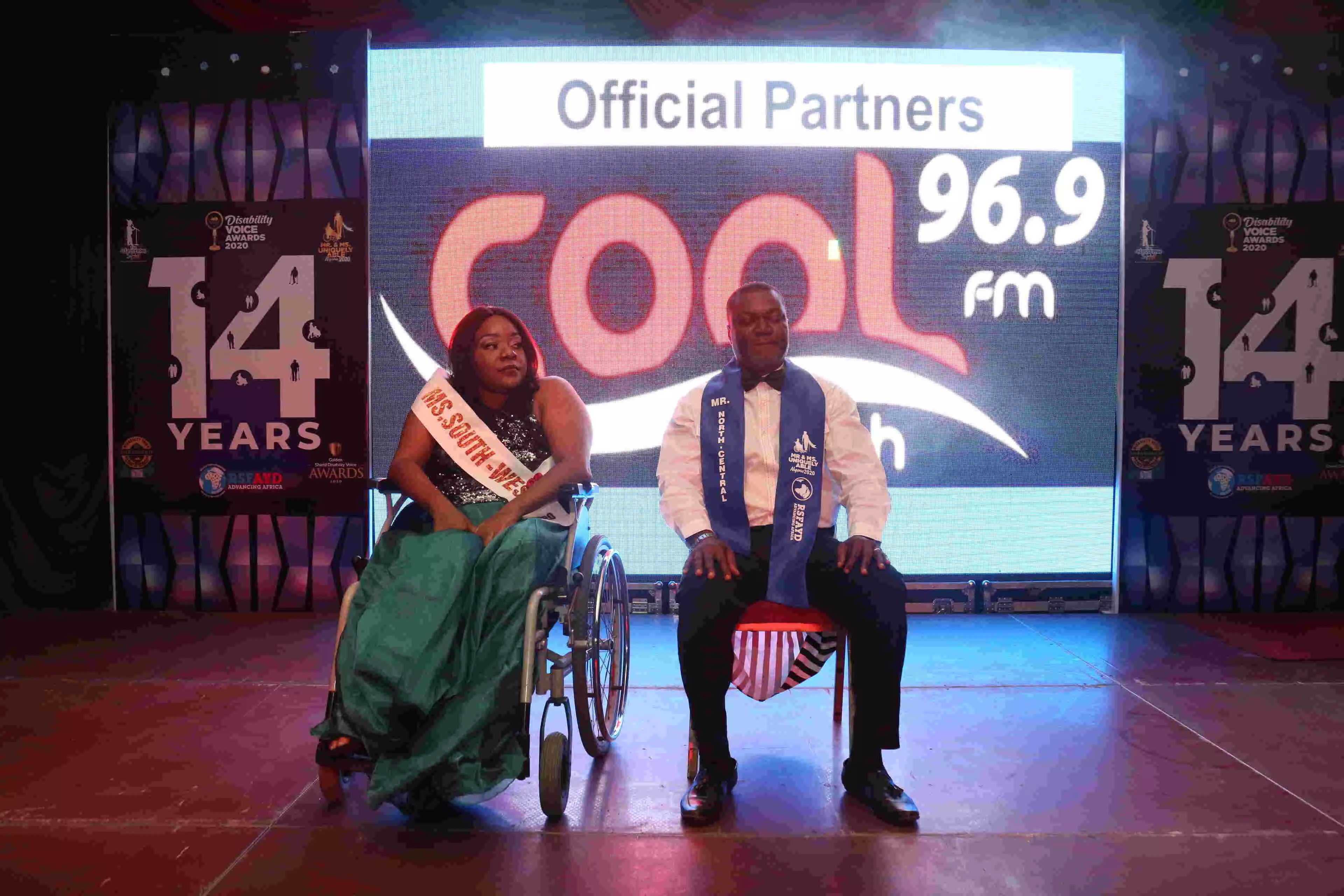 Sunday 13th December 2020, was indeed a day filled with laughter, love and support to the community of people with disabilities drawn from the 6 Geo political zones in Nigeria. Rugged Steps Foundation for African Youth Development ( RSFAYD AFRICA), held her 14th year anniversary with the Mr. and Ms. Uniquely Able Nigeria 2020; a disability […]
Sunday 13th December 2020, was indeed a day filled with laughter, love and support to the community of people with disabilities drawn from the 6 Geo political zones in Nigeria.
Rugged Steps Foundation for African Youth Development ( RSFAYD AFRICA), held her 14th year anniversary with the Mr. and Ms. Uniquely Able Nigeria 2020; a disability rights advocacy Pageantry and fashion Runway plus the the Disability Voice Awards, to mark her achievements in the disability advocacy sector.
RSFAYD AFRICA is a renowned disability rights advocacy NGO at the forefront of empowering the community of people with disabilities. Other programs of the NGO cuts across protecting the rights of children and the girl child, training community women and youth groups, most notably creating opportunities and platforms for PWDs to showcase their unique abilities and marketable skills whilst ensuring they get sustainable support for a brighter future and livelihood. This has been their area of focus since the NGO was founded in 2006 till date.
The NGO has trained over two thousand, one hundred and forty-three (2,143) persons with disabilities (PWDs) and successfully established and expanded over a thousand (1,000+) SMEs run by PWDS.
According to the Executive Director/Founder of Rugged Steps Foundation for African Youth Development ( RSFAYD AFRICA), Prince (Amb.) Kalada Oko-Jaja, "this year's anniversary is strategic as it is geared towards empowering persons with disabilities(PWDs) in business, those whose businesses may have been affected by the adverse effects of the COVID-19 pandemic.
You will recall that on January 23, 2019, our President Muhammadu Buhari signed into law the Discrimination Against Persons with Disabilities (Prohibition) Act, 2018, following 9 years of relentless advocacy by disability rights groups and activists.
According to the World Health Organisation's 2011 World Disability Report, about 15 percent of Nigeria's population, or at least 25 million people, have a disability.
Many of them face a number of human rights abuses including stigma, discrimination, violence, and lack of access to healthcare, housing, and education. We have seen very slow implementation of the law, however, we use this celebration to appeal to Government and policy makers both at state and federal levels to ensure that we take the pains to end the shame we're currently experiencing in the disability sector Prince Kalada laments. We urge them to take swift actions and an inclusive drive towards building a new Nigeria.
The International DAY celebration of persons with disabilities' theme this year 2020 is "Building Back Better: toward a disability-inclusive, accessible and sustainable post COVID-19 World".
As a way of ensuring that we add to the gains of overall objective of this year's United nations celebration of persons with disabilities which is usually held every 3rd December, we decided push for more visibility, hence, we created a National platform through the creative advocacy Pageantry cum fashion runway in order to showcase talents and unique abilities of our special friends across board.
Our reachout criteria was thorough and we had our volunteers of over 70 young professionals on ground to ensure that the plans became a reality and indeed a huge success. We had beneficiaries in the categories of virtually impaired persons (blind), speech and hearing impaired persons (mute & deaf), the Albinos, and mobility challenged persons".

Prince Kalada Oko-Jaja further added that the event was proudly sponsored by The Nigeria LNG who took care of the star prizes alongside the business grant support to winners of Mr. & Ms. Uniquely Able Nigeria (MMUAN) 2020, together with Belema Oil Producing Limited sponsoring the main event's program logistics, including the camping facilities where all selected participants and contestants with disabilities were trained few days prior to the main event.

In his words, the Executive Director/Founder of RSFAYD AFRICA, Prince (Amb.) Kalada Oko-Jaja, said "for us as a Foundation, this 14years celebration program is the beginning of our 2021 plans to organize skills acquisition training programmes alongside plans to set up small businesses for over 100PWDs within the 1st and 2nd quarter of 2021".
Prince Oko-Jaja also added that the next Mr. & Ms. Uniquely Able Nigeria 2021 will hold in Abuja going by the recent plans on ground.

The MMUAN 2020 saw winners emerge in the following order: The Male category Winner plus the overall star prize winner of the business grant Pageantry Challenge is Mr. Inichinbia Allaso Kalio, while the 1st runner up is named Ms. Adaobi Chuma Okeke, and a surprise 2nd runner up named Ms. Justina Obi, with other 9 contestants going home with other categories of business grant support.

Another highlight of the night was the surprise gifting of 10 custom wheelchairs by one of our awardees of the prestigious Disability Voice Award which held same night, Hon. Engr. Major M. Jack; Deputy Chief Whip of the Rivers State House of Assembly and member representing Akuku-Toru constituency 1, the mobility aid was received by Mr. Collins Akpannah, Chairman of the Virtually impaired persons in Rivers State and coordinator of persons with disabilities in Akuku-Toru Local Government Area. Other support aids came from Rugged Steps Foundation for African Youth Development through her generous partners and sponsors.

This is event was made possible by our esteemed partners and sponsors in no particular order: Supreme Magazine, Nigeria LNG, Belemaoil Producing Limited, Menage Catering and House keeping, Solotone Global Ventures Limited, Strata Base Group, Port Harcourt Mall, PH Magazine, Kristov's House, Silverbird Group, CoolWazobiaInfo, Iniyemi Couture, Isaiah Sixty Cakes, Izod Tech, Josh and Temp Garments Limited, Peniuella Events, Hotel Presidential, Wave FM 91.7, Stakeholders Democracy Network, Sweettooth Confectioneries, Garden City Radio 89.9 FM, The Rest Place-CGMi, AIT, NTA, Sisters' Fellowship International- Diamond Golden Winning Chapter, Omas Stitches, Kilali Kreative minds and Company, and Adpack Management Limited.
We are deeply grateful to the renowned Dumo Youth Foundation (DYF23) for their extraordinary show of love and support throughout our journey. The event had in attendance Baba T. Amieye together with the indefatigable DG, President, and Vice President of DYF23, on behalf of High Chief Barr. Dumo Lulu Briggs, a man with a large heart.

It was a massive event, life changing, and it continues to reverberate in the hearts of all and sundry as a huge success.
As we make progress with MMUAN 2021 please follow us on all our, sponsors and partners are needed and we can be reached on all our social media handles @rsfayd, while sponsorship interests can be sent to [email protected], please copy : [email protected].
Please see attached a few photos of what went down during her 14years celebration!