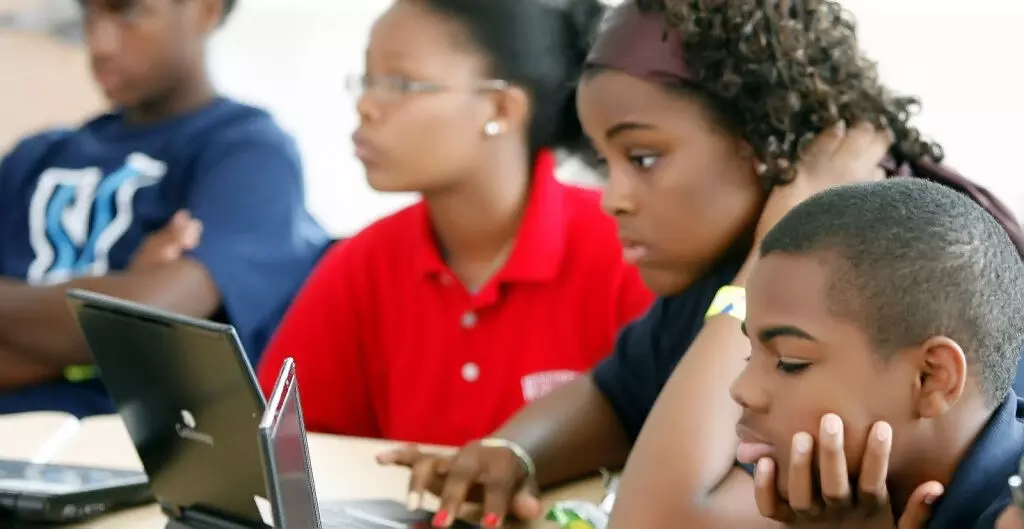 NEWS ANALYSIS: Empowering Nigerian youths to become self reliant through ICT training Gaining self reliance through meaningful employment has been a global challenge over time. The UN General Assembly (UNGA) in 2015 rolled out targets to consolidate the Millennium Development Goals (MDGs) with  Sustainable Development Goals (SDGs) to enable communities of the world achieve sustainable […]
NEWS ANALYSIS: Empowering Nigerian youths to become self reliant through ICT training
Gaining self reliance through meaningful employment has been a global challenge over time.
The UN General Assembly (UNGA) in 2015 rolled out targets to consolidate the Millennium Development Goals (MDGs) with Sustainable Development Goals (SDGs) to enable communities of the world achieve sustainable growth.
The SDGs were built on the principle of 'leaving no one behind' with a more practicable approach toward achieving the goals.
With reference to goals one, eight, nine and 10 which aims to achieve zero hunger, decent work, economic growth and industry, innovation and infrastructure and reduce inequality, the UN Educational, Scientific and Cultural Organisation (UNESCO) in 2014 launched its YouthMobile Initiative.
The initiative was targeted at introducing youths and equipping them with Information Communication Technology (ICT) skills as both resource to solve local problems and as tool to develop complex learning skills.
It also promotes the creation of inclusive digital societies which further strives to unlock the potential of women in ICT and foster gender equality.
Nigeria, with a population of over 180 million people with high incidences of unemployment in the country and the recent rating by the National Bureau of Statistics (NBS), over 20 million people are unemployed and the situation needs urgent intervention.
In that light, UNESCO Abuja collaborated with Federal Capital Territory Administration (FCTA) on YouthMobile project to empower youths in the territory with skills in web development, software and application, among other ICT skills.
The project, launched in September 2017, started with the target of training 400 youths from Bwari and Abuja Municipal Area Councils in the first phase but later graduated 418 youths in August 2018.
The FCT Minister, Mr Muhammad Bello, said that the project "is a unique partnership venture in building capacity of youths for job skills and entrepreneurship development.
"The initiative has been efficient in tackling unemployment and building the required skills and competence in entrepreneurship.''
Bello said that the FCTA committed about N96.7 million by way of counterpart funding to match UNESCO's support of N42 million.
He urged youths to justify the investment toward actualising their full potential, adding that the importance of knowledge was in utilising it.
According to him, youths will use the knowledge to build an inclusive society by leveraging on ICT skills.
Similarly, he commended the significant number of female participants in the programme, adding that it underscored the fact that FCTA prioritised issues on women.
The minister said that the issue of youth employment was a major challenge of government and the present administration was employing every strategy to intervene on the situation, which includes the UNESCO YouthMobile Project.
Going forward toward the end of the first phase of the UNESCO/FCTA YouthMobile project, the FCTA made another commitment for the training of 600 youths in Gwagwalada, Kuje, Abaji and Kwali area councils for the second phase and it is presently ongoing.
Mr Ydo Yao, the Regional Director of UNESCO, said that over 12 per cent of participants at the programme secured direct jobs owing to their acquired skills.
Yao said the organisation was committed to engaging youths meaningfully to promote peace and prevent extremism.
He said "the YouthMobile Initiative helps to expand access to learning and improve its quality. It has power to improve capacity of young ones, solve local problems and facilitate skills for more efficiency.
"The spirit of UNESCO on youth is to engage, partner youths in promoting peace, prevent violent extremism and engage them meaningfully.
"Youths stand at the heart of the 2030 Agenda of Sustainable Development and UNESCO is working across board to support the project.
"It is my joy that over 12 per cent of participants have secured direct jobs based on their new skills. In all, 62 per cent of 418 beneficiaries are skilled on web and application development.
"About 38 per cent are skilled in computer networking and basic repairs," Yao said.
The regional director added that UNESCO was committed to harnessing ICT, especially mobile technology, saying that the present generation was opportuned to have new communication media and internet-based worldwide public arena.
On his part, Mr Akindayo Akinlodani, the ICT expert facilitating the YouthMobile training, urged government at all levels to invest in computer education to build the technology ecosystem for sustainable development.
Akindolani said "the world is changing, there is virtually nothing you can do without technology, therefore, we need to keep empowering the youths to know how to create technology applications."
He said that curriculum in schools needed an upgrade to involve ICT entrepreneurship skills to enable youths to have the knowledge in the changing world of technology.
Mr Olushola Macaulay, the National Programme Officer, UNESCO, said that with the evolution of technology, unemployment rate would increase, hence the need for youths to utilise the benefits of ICT.
Macaulay urged youths to focus their skills application to developing local content for sustainability, adding that the training was a business concept.
He explained that Nigeria as a nation needed to invest more in Information Communication Technology (ICT), as well as upgrade educational curriculum.
He noted that "no nation can grow without serious global reforms, we need to meet up with other advanced countries and not be left out in technological advancement.
"Our school curricula are outdated, most of our schools are still using British pre-colonial era curriculum.
"Government needs to review this curriculum to include trends in education and to enable the country achieve the SDGs".
He said there was need for state governments to key into the YouthMobile programme to ensure that youths across the country benefitted from the training, which would reduce unemployment.
According to him, there should be more emphasis on women because part of the core objective of UNESCO is to bridge gender inequality.
Meanwhile, the programme had positioned four youths in the first phase to represent Nigeria in the YouthConnekt application demonstration conference held in October in Kigali, Rwanda.
YouthConnekt convention was to inspire thousands of young people with new ideas to promote sustainable development, economic growth and social progress.
The four youths were selected based on the expertise exhibited on the applications they developed during the YouthMobile training on web designing and development of applications, among other ICT skills.
The UNESCO national programme officer said the youths' participation in the conference had enhanced their developed applications which were aimed at enhancing their chances of employment and creating jobs for citizens.
Macaulay said "since the launch of the YouthMobile Project by the Communication and Information Sector of UNESCO in 2014, the initiative recorded more than 6,000 direct beneficiaries who developed and distributed mobile apps for sustainable development.
"The project targeted over 26 countries around the world and has already benefitted the East African region and Rwanda in May 2017.
"With the support of Rwanda's K-Lab, YouthMobile aims at inviting a selection of previous YouthMobile projects' participants to attend YouthConnekt and help in revitalising some of the apps.
"YouthConnekt will present the participants the opportunity to improve their hard, soft skills, network and increase their employability and four of our youths qualified for the conference," Olushola said.
Rhoda Babatunde, a young graduate who benefitted from the YouthMobile programme said she used the knowledge acquired during the training to create income for herself.
Babatunde said she engaged in private projects as a web and front-end developer and worked with various teams to deliver projects to clients after her training in the YouthConnekt Africa Conference in Rwanda.
Other youths who participated in the training were Akinbobola Oluwarotimi, Kehinde Olanrewaju, Eric Umeohabike, Godwin Abraham, Iyanu Owoleke, Gabriel Ezenwankwo, Henry Ojediran, Hamza Jireh, Kemi Owoleye, Kemi Ahmed, Sadiq Umai, Kufre Umana, Fatimah Is'haq, among others.
by Ijeoma Olorunfemi
Source: NAN
Photo Source: Google