Business/Economy
Minister expresses commitment to implementing Standard Operating Procedure in Budgeting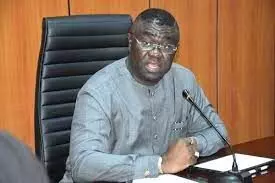 The Minister of State, Finance Budget and National Planning, Mr Clement Agba, has stated the ministry's commitment implement Standard Operating Procedure (SOP) in Budgeting and National Planning. A statement issued by Mrs Victoria Agba-Attah, Director of Information in the ministry, in Abuja, on Wednesday, quoted the minister as saying that the SOP was designed to […]
The Minister of State, Finance Budget and National Planning, Mr Clement Agba, has stated the ministry's commitment implement Standard Operating Procedure (SOP) in Budgeting and National Planning.
A statement issued by Mrs Victoria Agba-Attah, Director of Information in the ministry, in Abuja, on Wednesday, quoted the minister as saying that the SOP was designed to ensure that activities and procedures of all departments and units of National Planning, an arm of the Federal Ministry of Finance, were re-engineered effectively.
Agba, expressed confidence that successful implementation of the SOP would be of benefit to the organization.
"The successful implementation of the SOP will benefit the organisation in the following areas; producing proper integration of functions in the departments and units.
"Also, proper structuring for responsibility and accountability at all levels and variation reduction, promoting quality and clear understanding of organizational and departmental activities which will further improve its status as an A-list ministry," he said.
He recalled that SOP of National Planning was launched on 19 October, 2020, making it the first ministry and third Federal MDA to develop enablers in preparation to commence full implementation.