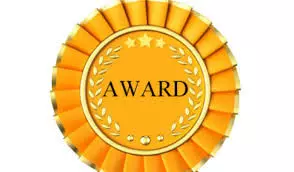 The organisers of Nigeria Service Awards (NSA) has called for nominations and voting into the various categories for the 2021 Maiden edition of the award scheduled for Nov. 11 Amb. Cletus Akhimien, Convener of the awards and Executive Director (COA) Media, made this known in a statement made available in Jos on Tuesday. Akhimien said […]
The organisers of Nigeria Service Awards (NSA) has called for nominations and voting into the various categories for the 2021 Maiden edition of the award scheduled for Nov. 11
Amb. Cletus Akhimien, Convener of the awards and Executive Director (COA) Media, made this known in a statement made available in Jos on Tuesday.
Akhimien said the nominations for the NSA would commence on Aug. 24, while Sept. 10 is deadline for submission of nominations.
"Sept. 12 is the voting of shortlisted nominees; Sept. 21, deadline for voting; Sept. 21 to Sept. 25 is the judges' review of all nominations, with submission of votes and announcement of winners.
"Nominations should clearly state full names of nominees, category of nomination, accompanied by supporting evidence in the form of documents, online links, videos, etc.
"Nominations should also have the contact details of either or both the nominated person and nominee so that contact may be made for supporting evidence of claims if needed," he said.
Akhimien said that the nominations were open to all Nigerians and other Nationals residing in Nigeria, including Nigerians in Diaspora to be directed to [email protected] or WhatsApp.
"The Nigerian Service Awards is aimed at honouring individuals and groups whose works have positively impacted communities across Nigeria as well as inspiring empathetic leadership and greater transformations.
"The award is chiefly targeted at motivating stakeholders on their current efforts in building a greater Nigeria, appealing to and attracting more interest in the quest to securing the future of our dear Nation.
"This award upholds formal order to stimulate Nigerians to build the spirit of service in their purpose and pursuits, recognise and celebrate talents, icons, captains of industries, technocrats and those making Nigeria proud in various endeavors.
"It is also aimed at awakening patriotism and spurring Nigerians to do more in terms of service to humanity and societal transformation," the NSA convener said.
According to him, the award comprises 37 distinctive categories, why winners of each award category, after the judge's review and recommendations, shall be formally presented with an Award Trophy, Plaque and Certificates during the Gala Night, scheduled to hold on Nov. 11.
Akhimien, however, said that all nominees must be persons or corporate bodies that have direct bearing and impact on their immediate society and Nigeria at large.
The 37 categories for nominations include 2021 Man of the Year, Governor of the Year, Senator of the Year, State First Lady of the Year, Lifetime Achievement Award, Minister of the Year, Public Servant of the Year and Icon of Women Empowerment Award.
Others are Journalist of the Year, Excellence in Leadership Award, Peace & Security Personality of the Year, State Assembly Speaker of the Year, Extraordinary Business Achievement Award and Humanitarian Service Award.