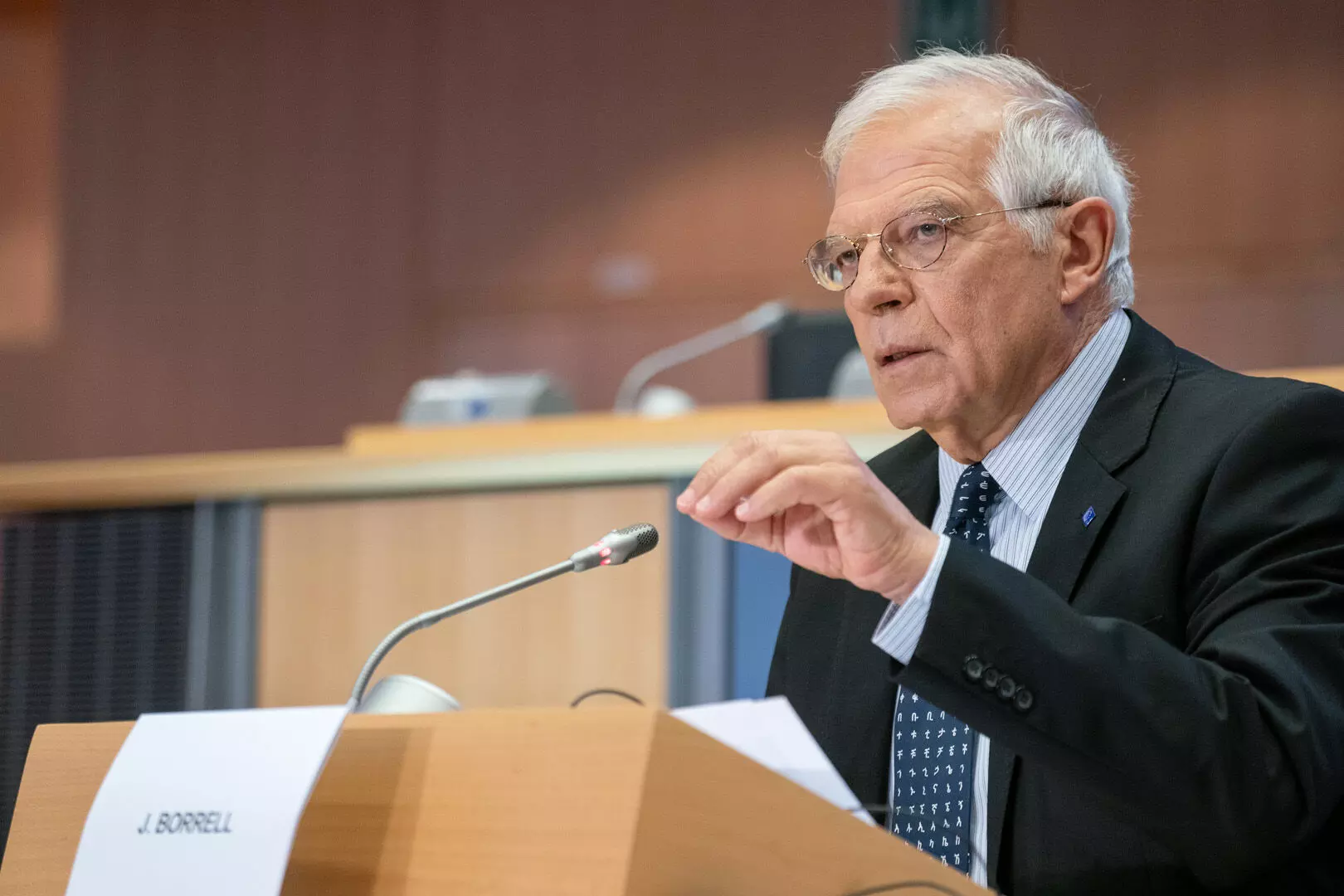 On Sept. 21, Russia chose a path of confrontation by announcing a partial mobilisation in Russia, by supporting the organisation of illegal 'referenda' in the Ukrainian territories.
EU foreign policy chief Joseph Borrell has promised new sanctions targeting Russia following President Vladimir Putin's latest escalation in his war against Ukraine.
"We decided to bring forward as soon as possible additional restrictive measures against Russia in coordination with partners,'' Borrell said.
He said this late on Wednesday following a meeting of EU foreign ministers on the sidelines of the UN General Assembly (UNGA) in New York.
The meeting was convened by Borrell after Putin ordered the partial mobilisation of reservists in order to bolster his military's flagging efforts in Ukraine.
"On Sept. 21, Russia chose a path of confrontation by announcing a partial mobilisation in Russia, by supporting the organisation of illegal 'referenda' in the Ukrainian territories.
In which currently being occupied by Russia and by threatening again with the use of weapons of mass destruction, Borrell said in a statement.
"The references to nuclear weapons do not shake our determination, resolve and unity to stand by Ukraine.
"Our comprehensive support to Ukraine's ability to defend its territorial integrity and sovereignty as long as it takes,'' he added.
Earlier in the day, Putin inked a decree to partially mobilise the reservists in the country's armed forces, sparking protests in several Russian cities.
As Putin looked for ways to throw more resources at his troubled invasion of Ukraine, he warned other states not to attack Russian territory and alluded to nuclear retribution if someone chose to do so.
"If the territorial integrity of our country is threatened, we will absolutely use all available means to protect Russia and our people.
"This is not a bluff,'' he said in a televised address.
Hundreds of Russian demonstrators were detained at rallies against the mobilisation measure.
Civil rights group OVD-Info counted 1,350 arrests by Wednesday evening across 38 cities across the vast country, where anti-government rallies were routinely repressed.
It said 500 demonstrators were held in Moscow and 556 in St Petersburg.
Putin announced the mobilisation as he said that he would support planned referendums in the occupied regions of Luhansk, Donetsk, Kherson and Zaporizhzhya later this week, in which people would be asked to join Russia.
The vote had been panned as a sham by the West, as it was being conducted during a military occupation and without outside oversight.
However, if Putin were to be able to report that these areas had voted to become Russian, any attack by Ukraine to free them would fall under his threat of doing anything to protect his country's territorial integrity.
Russian Defence Minister Sergei Shoigu said some 300,000 reservists of 25 million available would be called up.
Shoigu also put the losses suffered by Russia's army during its invasion of Ukraine at 5,937 personnel.
It was the first time in months that Russia had officially published figures.
Independent observers, however, believed Russia's losses were significantly higher.
The call to mobilisation prompted criticism from Ukraine and further abroad, with many saying it was a sign that Putin's gambit was failing.
"All this can only be explained against the background of the fact that the Russian attack on Ukraine has not been successful,'' a government spokesperson quoted German Chancellor Olaf Scholz as saying in Berlin on Wednesday.
U.S. Secretary of State Antony Blinken said Putin's latest move "reflects the Kremlin's struggles on the battlefield, the unpopularity of the war, and Russians' unwillingness to fight in it.''
"President Putin is not operating from a position of strength,'' Blinken said in a statement.
"Rather, this is another sign of his failing mission. European Commission President Ursula von der Leyen echoed Blinken's comments, telling CNN Putin was showing his weakness.''
Von der Leyen also said that Putin "will have to pay massive costs'' for the invasion, adding that we would never bow to blackmail over Putin's nuclear threat.
Ukrainian President Volodymyr Zelensky told the UNGA the move showed Russia was not interested in peace.
"They talk about the talks but announce a military mobilization. They talk about the talks but announce pseudo referendums in the occupied territories of Ukraine,'' Zelensky said.
"Russia wants war.''
U.S. President Joe Biden told the assembly that the war "is about extinguishing Ukraine's right to exist as a state, plain and simple. And Ukraine's right to exist as a people.''
Meanwhile, Kiev announced that 215 people, including fighters captured at the Azovstal steelworks in Ukraine, were exchanged for pro-Russian politician Viktor Medvedchuk and Russian soldiers in a major prisoner swap.