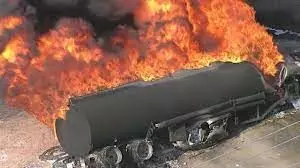 For another victim, Ojo Peter, that day will remain a black day in his life as he helplessly watched his house partly destroyed and his car burnt.
Mrs Eunice Uwa, a widow and mother of three thought that she has overcome the agony of losing her husband and returning to semblance of normal life with her petty trading business at Owan, Ovia North East Local Government Area of Edo until one single incident sent her dreams crashing.
On that day, Nov. 18, 2022 a tanker laden with a petroleum product fell, spilled its content and exploded. Fire fighters rushed to the scene at put out the resulting.
But before they did that the damage had been done. Several property worth millions of naira had been consumed. Uwa's shop was one of them.
Narrating her ordeal, Uwa said: "the day before the incident I had stocked my shop ahead of the Christmas sales only for everything to be ruined before by own eyes.
"Where will I start from; whom will I cry to for help, how do I repay the loan I took to invest in this business? Uwa asked as she subbed.
For another victim, Ojo Peter, that day will remain a black day in his life as he helplessly watched his house partly destroyed and his car burnt.
"I could not do anything about it. It was a sudden loud noise as the tanker fell and within seconds burst into flame that consumed my part of building and my car.
"But I am happy that no life was lost. We are also grateful to Okomu Oil fire fighters who assisted to put out the fire otherwise the damage would have been more colossal.
Yet another victim, Mrs Juliet Udaya, said: "I am feeling better now. Unlike when the incident happened last year, I was devastated because I lost everything I had in my shop to the fire.
"The counseling and promise from Okomu Oil management last December, also helped to give us hope,'' she said.
The incident saw no fewer than 10 buildings including a worship centre and a car destroyed.
That singular fire incident saw no fewer than 10 buildings including a worship centre and a car completely mangled.
Management of Okomu Oil Palm Company, during its end of year community relations gathering at its headquarters in Okomu, near Benin, empathized with the leadership of the community and the victims over the loss.
The Managing Director of the company, Dr. Graham Hefer, at the occasion, reiterated the company's commitment to ensuring that it continued to assist members of its host communities, especially women with skills to empower them to become self-reliant.
Hefer said the package includes the selection of 87 women its 29 host communities for training in different skills to make them self- reliant. The CSR also brought hope the victims of the accident.
According to him, the empowerment programme is part of the company's Corporate Social Responsibility (CSR) projects.
Each of the host communities within the three Local Government Areas of the company's operations, had presented three women to participate in the one-day training programme, held on Nov. 29 and Nov. 30, at Udo town hall and its extension 2 facility.
The three benefitting Local Government Areas were, Ovia South West, Ovia North East and Uhunmwode.
The women were taught how to make soap and engage in modern farming techniques and how to convert waste to wealth and become financially independent.
Hefer at the occasion raised the hopes of the fire victims, saying the companywill provide them with building materials to lessen their pains and put smile back on their faces.
On Jan. 27, 2023, it was a promise fulfilled when the grieving inhabitants of Owan community took delivery of relief materials from Okomu Oil Palm Company.
Mr Bashisu Kadiri, the company's Community Liaison Officer (CLO), who represented Hefer, presented building materials to the victims at the community Town Hall.
The items included 100 bags of cement, 2 bags of 4 inches nails, 3 bags of 3 inches nails, one bag of 1.5 inches nails, 30 bundles of zinc, and 45 pieces of woods.
The other items included 40 pieces of 2x3x18 of wood, 40 pieces of 2x2x18 woods, 40 pieces of 3x4x18, 40 bags of Zinc nails, 10, iron doors and 70 pieces of ceiling board.
Hefer said: "I am glad that I am here today to present these building materials to assist the victims of that incident as was promised by our company when the fire disaster happened.
"We believe that the people will accept what we are giving them. I also pray that community leaders that are here make sure the things get to the affected people.
"So, let it go to the people so that they can get their lives back once again as it was before the incident.
"We hope that more things will come in the future but we pray that this community will not have this experience again.
"Rather, we shall come here to celebrate better things that are coming not disaster", he said.
Receiving the items on behalf of the victims, the Odionwere (Head) of Owan community, Mr Aigbokhaevbo Ifiabor, thanked the management of Okomu Oil Palm Company for the gesture.
Ifiabor, who appreciated Okomu Oil company's gesture, asked for sustenance of the existing relationship between the community and the company, assuring that the materials would reach the intended beneficiaries.
"I will make sure that the victims get the materials according to their needs and that is why I decided that they should be kept in a place where I can actually know what is happening", he said.
One of the victims, Mr Friday Ileso, while appreciating the Okomu management for the gesture, said that since the incident they had been squatting with neighbours and living on handouts.
"We appreciate Okomu for the relief materials they brought, God will continue to bless and enrich you and your company for the gesture," Ileso said.
"With this at least, we can begin to pick up our lives back and try to stand our feet again,'' Mrs Elere Aina, another victim said.
Stakeholders said the gesture by the company is commendable and worthy of emulation.
They called on similar entities to rise to the challenge of assisting disaster hit-communities so that they would not have to wait for government all the time before the get support.