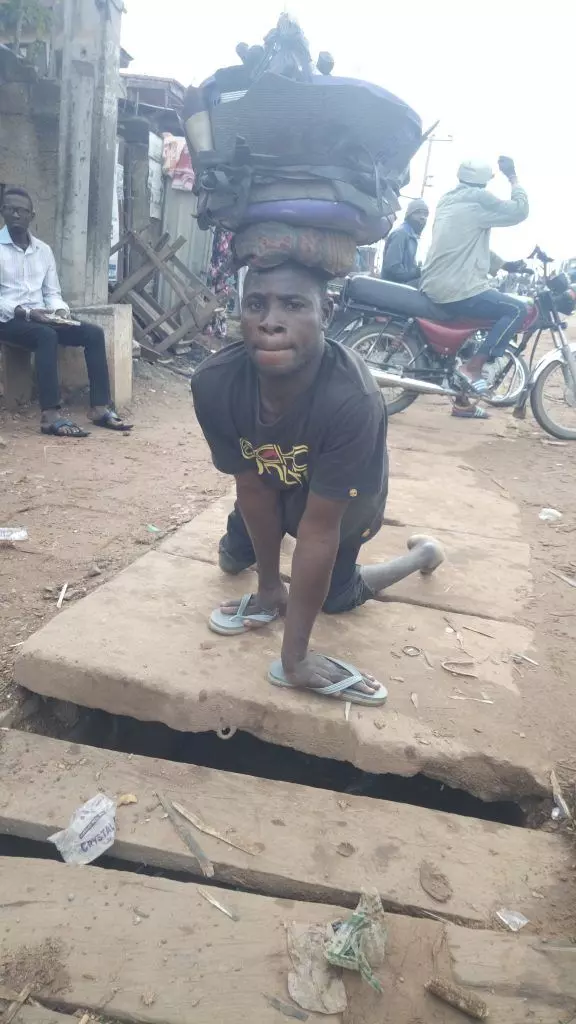 Suleiman Idris moves around in Mararaba in search of customers
According to him, his family members wanted him to be a roadside beggar because it can bring in some easy money but he rejected their suggestion.
It is a fact that being physically challenged can impact on affected person's activities and personality. It can be limit the victims' progress in life and in some cases, change the life trajectory.
Yet in these challenges, some persons with disabilities have chosen to defy the odds and figure out how to apply their God-given talents to enhance their fortunes and positively impact on the society.
Mr Suleiman Idris is one of the disabled persons that have not allowed their physical challenges to make them a burden to the society. Crawling on all fours, Idris is a cobbler who moves around to polish shoes for his customers.
From his efforts, he has married and has children. He supports his family, immediate and extended, with the income he makes from his trade.
In an interview with the correspondent, Idris who has two kids from his marriage, said he could not imagine himself begging by the roadside.
According to him, his family members wanted him to be a roadside beggar because it can bring in some easy money but he rejected their suggestion.
"I am from Kano State, my family members urged me to stay and ask for alms but I decided not to do so.
"They made this suggestion because of the risk that is involved in going round the road with my condition to mend shoes for people.
"I have the self determination not to sit on the roadside to beg people for alms because the income from begging is unpredictable, you may be lucky today but unlucky tomorrow.
"I would rather crawl like this from place to place to work to make a living than to beg," he said.
Every day of the week, Idris leaves his abode with his basket containing different cases of shoe polish, brushes, niddles and trades among others he sets out to work for his daily bread.
Idris explained that though the cost of living is high, he is earning more than many families.
"With what I am doing, I am making more money for myself than I will make if I ask people for alms, my skill will be useless if I resort to begging.
"I learnt this work for this purpose because I am not comfortable whenever I see people like me sitting on the road to beg.
"Moreover, I cannot use my disability as an excuse for begging when I have learnt a skill that can put food on my table", Idris told NAN.
On if he needed assistance, Idris said he would be happy if anyone can offer him a wheelchair to move around.
Idris believes that given the right support from governments, non-governmental organisation and individuals, he can work harder and earn more
"I will appreciate if anyone who can provide me with at least a wheelchair. That will ease my movement.
He called on government at all levels put necessary policies in place to ensure that the talents of physically challenges persons were not wasted.
He suggested that government could set up the vocational rehabilitation centres across the country for people living with disabilities.
The initiative, Idris said, could bring out the hidden talents and skills in some of them.
"Don't be surprised to see some of us being hired by people to do jobs that require little or no physical power to do so. What matters is the successful execution using skills and the talent in us," Idris said.
The Federal Government has taken initiatives to protect people living with disabilities and harness their talents for national growth.
The 'Discrimination Against Persons with Disability Prohibition Bill' was signed into an Act on Jan. 23 2019, by President Muhammad Buhari, following 9 years of advocacy by disability rights groups and activists.
The bill prohibits discrimination on the basis of disability and imposes sanctions including fines and prison sentences on those who contravene it.
It also stipulates a five-year transitional period for modifying public buildings, structures, and automobiles to make them accessible and usable for people with disabilities.
Idris, however, called on the Federal Government ensure that the law is fully enforced and domesticated at state levels so that its impact is felt by people living with disabilities nationwide.