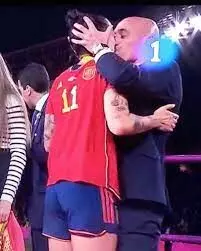 During the medals presentation ceremony, the Spanish Football Federation President, Luis Rubiales, grabbed and kissed a player, Jenni Hermoso, her lips as she picked up her medal. After the incident, Hermoso told the press that at no moment did she consent to the kiss.
Spain recently won the 9th edition of the FIFA Women's World Cup co-hosted by Australia and New Zealand by defeating England 1-0 at the Stadium Australia in Sydney.
After 63 gruelling yet intriguing games, the Spanish women's football team emerged as world champions for the first time, joining the U.S, Norway, Germany and Japan in the elite league of Women's World Cup winners.
Braving all odds and amid a backdrop of rancour, a 29th-minute strike from Captain Olga Carmona was enough to crown Spain, who stunned super-favourites England, who are European champions.
However, neither Carmona's crucial goal – a great strike at that – nor the team's heroics grabbed the headline like an incident off the pitch which has generated global outcry and condemnation.
During the medals presentation ceremony, the Spanish Football Federation President, Luis Rubiales, grabbed and kissed a player, Jenni Hermoso, her lips as she picked up her medal.
After the incident, Hermoso told the press that at no moment did she consent to the kiss.
If the unfortunate incident itself sparked public outcry, it is Rubiales' defiance and refusal to admit guilt that has turned the outcry into a public rage.
Rubiales' argument has always been that he is a victim of a witch hunt by false feminists.
"Do you really think I deserve this hunt? Are people demanding my resignation? Is this so serious for me to resign, having done the best management of Spanish football?"
"Do you think I need to resign? I will not," he said at a gathering.
The embattled Spanish FA boss has been provisionally suspended by the world football governing body FIFA for 90 days, pending the outcome of disciplinary proceedings against him.
Rubiales' conduct continues to affect Spanish football, as nearly all the coaching staff of the women's team resigned, citing the "unacceptable attitude", while 11 coaching and technical staff across Spanish football have also resigned.
While his action has been attracting global condemnation, Rubiales' resolve not to resign seems to be enjoying indirect support and soft-landing from the Spanish administrative mechanism.
Rubiales' case, far from being an isolated one, once more sheds light on sexual harassment in sports as a menace that has eaten deep into the fabric of society which has to be stamped out.
Shortly before the tournament, the head coach of Zambia's women's football team, Bruce Mwape, was investigated over allegations of sexual misconduct.
Then during the tournament proper, FIFA confirmed that it received an official complaint against Mwape about an alleged incident of rubbing his hands over the chest of one of his players.
Incidences of sexual allegations are also not peculiar to football.
In 2015, Larry Nassar was charged with sexually assaulting at least 265 young women and girls under the guise of medical treatment.
Nassir was a U.S. gymnastics team doctor whose victims included numerous Olympic and United States women's national gymnastics team gymnasts.
Recently, some Indian wrestlers accused the Wrestling Federation of India (WFI) boss, Brij Bhushan Singh, of sexually harassing several girls.
A publication quoted some athletes to have said powerful individuals within the establishment were trying to sweep the issue of sexual harassment of women athletes under the carpet.
Sports enthusiasts warn that if cases of sexual harassment of female athletes continue to be kept secret or downplayed instead of dealing with them, it will eventually question the credibility of the games.
"The easiest way to bring a sport to disrepute is by scandals. And, we can see in the case of the Spanish women's team that sexual harassment can overshadow whatever achievement is reached.
"Events everywhere have shown that there are deliberate attempts to downplay the extent of sexual harassment of women in sports, but in the long run, it's going to be an own goal.
"The best tool is deterrent, and Rubiales, for instance, should be made to answer for his indiscretion," Damilola Ojo, a sports analyst said.
It is disheartening in itself that sport has been accused of being a breeding ground for sexual harassment due to the assumption that it is a men's turf where fierce competition and sometimes violence are integral.
Angered by the lackadaisical response to allegations of sexual harassment by sports administrators, some activists are proposing strict measures, including that women be solely in charge of women's sports.
However, some stakeholders caution that such stringent propositions could derail the recent growth experienced in female sports.
James Ekpo-Essien, a football analyst, said female sports need inclusivity and should not be narrowed down due to cases of sexual harassment.
"The World Cup in Australia and New Zealand broke all sorts of records, just like the tournament in France did before it.
"So, women's football is evolving and needs all the inclusivity it can get. If we say men should not participate in it, how does it get marketing, branding, attendance, and other indices right?
"We cannot cancel an entire section of its stakeholders and audience because of a few bad eggs. What we need is for offenders to be adequately punished," he said.
The International Olympic Committee (IOC) says sexual abuse often involves a process known as 'grooming', where the abuser targets a potential victim, builds a friendship with them, develops isolation and control then initiates sexual abuse.
According to an IOC report, the risk of sexual abuse is greater when there is a lack of protection and there is high motivation by the abuser to perpetrate the act.
There is also the issue of a high level of athlete vulnerability, especially in relation to young age and growth.
Stakeholders acknowledge that sexual harassment and abuse happen in all sports and at all levels. But there is the argument that it is more prevalent in elite sports.
This is because members of the athlete's crew who are in positions of authority often happen to be the majority of abusers.
This is why sports administrators should make a difference by demonstrating zero tolerance deportment against sexual harassment because, without justice served in the form of a deterrent, victims carry the scar for the rest of their lives.
By Kayode Adebiyi