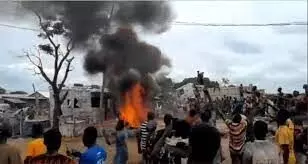 The police later intervened and reported that the alleged victim's sex organ was functioning, as confirmed by medical experts at a close by government hospital.
On October 7 a WhatsApp user shared a video of a middle-aged man being mobbed for allegedly stealing another man's genitals at the Abacha Road axis of Mararaba on the outskirts of Abuja.
Upon further interrogation one man who gave his name only as Taiwo claimed to have witnessed the incident and recorded the video, saying the alleged manhood thief returned what he stole due to fears that he would be lynched if he refused to do so.
"The mob decided not to take him to the police because he may not return the manhood he stole and they don't trust the police," he said.
The police later intervened and reported that the alleged victim's sex organ was functioning, as confirmed by medical experts at a close by government hospital.
Similarly, on the same day, at Sharp Corner Bus Stop, Mararaba, one person accused somebody of stealing his genitals. As usual, the crowd pounced on the accused and almost lynched him.
He the police came to his rescue. It was later discovered that the young man raised a false alarm. But before then, the harm had been done. The accused my badly injured and his car set ablaze.
The charred car was there at the time of writing this report.
Scenarios like the above have become common within the Federal Capital Territory and its environs, where jungle justice dispensers apprehend and attack individuals for allegedly stealing genitals.
From Lugbe to Bwari, Gwagwalada to Nyanya and elsewhere, there is hardly a day without FCT residents being served yet another sordid dose of mob action over alleged missing genitals.
Many male residents of the territory now move around with chunks of charcoal and alligator pepper said to be antidotes to the powers of genital thieves.
The situation has become so problematic that the FCT Police Command arrested and charged 14 men to court for false information to innocent residents over the disappearance of their genitals to disappear.
Within a week, several mob actions were carried out against more than 12 accused persons in the FCT alone.
The FCT Commissioner of Police, Haruna Garba, said when the false alarmists were taken to the hospital for evaluation, medical tests conducted on them revealed that their male organs were intact and also very much active.
It appears that the disturbing allegation of missing genitals are a seasonal wave that blows across the country in sequences, the FCT being its current stop though some states such as Cross River have had their share of the incidence.
It is probably making a stop from neighbouring Nasarawa State, where the menace peaked in August.
On Sept. 23, 2023, the police in the state had to issue a statement warning residents against raising false alarms and mob actions against suspected perpetrators of missing genitals.
Like the case in the FCT, the police said that medical examinations conducted on victims with cases of mysterious genital disappearance in Nasarawa Eggon, Obi, Lafia and Keffi Local Government Areas gave all the victims a clean bill of health.
Last month, the Cross River State Government also released a statement debunking rumours of missing male genitals in the Calabar metropolis and its environs.
In 2020, Dr Ninyo Omidiji, a medical doctor with the Benue State University Teaching Hospital, told a national daily that people who claim that their genitals were stolen might have depression or anxiety.
"Medicine is science and anything science cannot prove empirically or methodologically does not exist," he said.
Some medical experts say people who raise false alarms about the disappearance of their sex organs might be suffering from Koro Syndrome.
The National Center for Biotechnology Information, which provides access to biomedical and genomic information, defines Koro syndrome as being "characterised by a person's acute anxiety attacks.
"This is due to their overwhelming belief that their sex organs are retracting and disappearing into their body and that this retraction is fatal, despite the lack of actual physical changes to these organs."
It says the syndrome is a psychiatric disorder that has two classifications: an endemic, culture-related type epidemic in parts of East and Southeast Asia; and a sporadic and non-cultural type appearing throughout the rest of the world.
The definition and non-cultural type of the syndrome corroborates Omidiji's position on the wave of allegations of missing genitals in the FCT and elsewhere.
However, there are people who still hold tight to the belief that ritualists indeed `steal` people's genitals.
Many, like Taiwo even claim to have witnessed the restoration of missing genitals after the alleged perpetrators were apprehended.
Plausible or not the controversy is here with us. Mob response to cases of alleged missing genitals that poses civil disorder and extrajudicial meting out of punishment should be discouraged and discontinued.
So far, the situation has not led to any known fatality in the FCT due to timely intervention by the police. However, those falsely accused of stealing genitals must get justice.
Also, false alarmists, as well as members of mob that subject innocent citizens to molestation, should be rounded up and prosecuted.
By Kayode Adebiyi