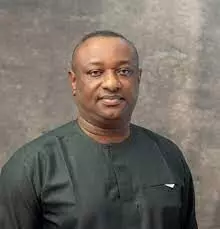 How ready is he to carry out far-reaching reforms to reposition the sector?
"Dear passengers, this is an announcement for passengers on flight XX 232 to Lagos. The flight has been delayed due to weather conditions'', says a barely audible announcer in the public address system at the departure lounge of Nnamdi Azikiwe International Airport Abuja.
This is the third time the flight has been postponed this evening. In the previous announcements, nobody bothered to inform the passengers of the reasons for the postponements.
`Oh My God!` `What a Rubbish!` It's a lie!`, `This can't be true!` murmured passengers as it looked most unlikely that the 'scheduled' flight would hold. The last flight for the night was already boarding.
The scenario is replicated on a daily basis at airports across the country.
Part 19.6 of the Nigeria Civil Aviation Regulations (Nig. CAR) 2015, as amended, says that for domestic flights, when an operating air carrier reasonably expects a flight to be delayed beyond its scheduled time of departure, it shall provide the passengers with the reason(s) for the delay.
This would be within 30 minutes after the scheduled departure time, and the assistance specified after two hours would include refreshments as specified in Section 19.10.1.
Section 19.10.1 of the regulation states that where reference to care is made in this section, passengers shall be offered free of charge: refreshments such as water, soft drinks, confectionery or snacks, and a meal.
According to the law, one can claim 25 percent of the ticket price as compensation based on the length of the flight delay and the circumstances surrounding the delay.
At the airports, these provisions are routinely ignored by the airlines, as food is never served and refunds are rare.
Successive administrations in the Ministry of Aviation have promised to make the sector match international standards. They have not walked the walk.
But there is a new pilot in the cabin, Festus Keyamo, a senior lawyer and former Minister of State for Labour, whose portfolio he was assigned after a spell as Minister of State for Niger Delta Affairs.
How ready is he to carry out far-reaching reforms to reposition the sector?
Mr. Emmanuel Bamiyo, a journalist, bought a N115, 000 ticket on one of the domestic airlines from Abuja to Kano in February. The flight was cancelled. All his efforts to get a refund have proved unsuccessful.
According to him, the airline promised that within one month his money would be refunded, but several months later he has not received the money.
Another dimension to the challenge faced on local routes is the lack of or meagre refreshment served on board, while seats are squeezed close, making leg room very difficult. In some cases, and strangely enough, there is unbearable heat on board.
Mr. Daniel Regha described his experience as `bittersweet`, saying the seats on his flight did not have enough space between them and had barely functional air conditioning systems.
To make matters worse, refreshment was paltry, as one bottle of table water was given out to two passengers.
Mr. Tunde Nineth said he would rather drive his car to any part of Nigeria than fly domestically.
Nineth alleged that many domestic airlines routinely lacked maintenance while their operators exhibited a nonchalant attitude towards passengers.
Sharing her experience, Mrs. Oghenkaro Akubuike, a civil servant, said she took a flight from Abuja to Lagos with her son and described their experience as harrowing.
According to her, she got to the airport in good time, checked in, and got to the departure lounge well ahead of time.
She said she waited eagerly for boarding to be announced in the hot departure lounge.
According to her, the flight was scheduled to take off at 7:05 p.m., but her fear was confirmed when it was announced that it would be delayed for 30 minutes.
"My son started asking me a lot of questions that I could not answer. He started the 30-minute countdown, checking the time at regular intervals.
"At 7:45 p.m., the airline invited the passengers for a briefing. Immediately, we knew something unpleasant was in the offing.
"We were informed by airline staff that our flight would be delayed for another hour and 45 minutes.
"The plane was already in Abuja but couldn't land due to bad weather, so it had to go to Lagos, and it will refuel before coming back to Abuja to take you to Lagos.
"For all the trouble, the airline offered each passenger one bottle of water,'' she told the News Agency of Nigeria (NAN).
The flight eventually took off at 11:20 p.m.
Aviation sector operators, while acknowledging the challenges they face, say some of the problems are beyond them. Among the most prominent challenges are operational costs, debt, and poor access to foreign exchange. The Nigeria debacle is still fresh in the minds of aviation stakeholders.
Mr. Peter Dia said the rising cost of Jet A fuel is triggered by the high exchange rate of the dollar, and importation charges are impacting negatively on the operations of airlines.
Dia spoke as a representative of the Oil Marketers Association at a National Aviation conference organised in Abuja by the Federal Airport Authority of Nigeria.
Unfortunately, we are not producing Jet A fuel in Nigeria. We import all the Jet fuel we are selling in this country, and then we continue to battle with taxes and charges from different agencies when the jet fuel arrives in Nigeria," he said.
"Airline operation in Nigeria is beset with many challenges, which include weather, airport infrastructure, VIP movement, and bird strikes.
"Airlines in Nigeria have been blamed for posting poor performances, delays, and cancellations.
"Recently, the NCAA came out with their assessment of the situation without telling the world what caused those cancellations and what caused those delays.
"Air Peace alone, this year, has recorded about 18 bird strikes, and that means a lot to the operations of an airline'', said chairman and CEO of Air Peace, Allen Onyema, at the Brunch Business Meeting of the Aviation Safety Roundtable Initiative (ASRTI).
As the newly appointed ministers settle down for business, various sectors of the economy, such as aviation, face different challenges. As challenging as these challenges may be, they are not insurmountable.
Although the era when aircraft dropped from the nation's airspace seems to be over, more reforms are needed to strengthen the sector and make it one of the best in Africa.
The operational environment seems hostile for airlines in Nigeria, resulting in many of them closing shops at rapid intervals. It is important that the root causes of these problems are unravelled and fixed by the Keyamo administration.
Will he, the human rights activist-turned politician, hit the sky? Will he deliver where others have failed or cruise at the altitude of an average show like his predecessors? Nigerians are keenly waiting for his landing.


By Femi Ogunshola