Features/Spotlight
How well are Nigerians convinced about its necessity, effectiveness of immunisation?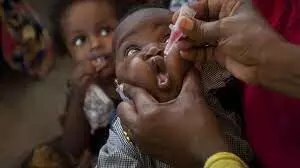 When a child gets vaccinated, they create antibodies without ever having to be infected. If a parent chooses to wait until adulthood to have their child vaccinated, they run the risk of their child being exposed to a virus that their immune system cannot defend against.
Immunisation during childhood has been proven to be the most effective strategy for the prevention of many infectious diseases. The vaccination of children against childhood diseases carries obvious medical and economic benefits as well as numerous indirect and often far-reaching added societal benefits.
Vaccination programme provide an opportunity for the provision of other primary health care services. It also leads to a direct and measurable reduction of child mortality rates and becomes an opportunity for a higher standard of living as it encourages small families and, in this way, contributes in the family planning programmes' success.
When a child gets vaccinated, they create antibodies without ever having to be infected. If a parent chooses to wait until adulthood to have their child vaccinated, they run the risk of their child being exposed to a virus that their immune system cannot defend against.
Additionally, their child won't be protected from the serious, sometimes life-threatening, consequences of contracting certain viruses.
Routine childhood immunisation is one of the most cost-effective public health interventions, estimated to avert two to three million deaths per year.
The routine vaccinations recommended in an infant's first year protect against harmful and deadly diseases including polio, tuberculosis, yellow fever, measles, diphtheria, and hepatitis B.
Most of these vaccines require more than one dose, requiring parents to bring their infants to multiple wellness visits during their first year of life to be fully vaccinated.
The Federal Government through the National Primary Health Care Development Agency (NPHCDA), and partners have advocated for immediate measures to ensure that routine immunisation services are continued to protect the most vulnerable infants and children in the country.
Data from the Nigerian Demographic and Health Survey, 2018, shows that 31 per cent of children, aged 12-23 months, received all basic vaccinations. Indicating that only 3 out of every 10 children, aged 12-23 months, received all basic vaccinations. 7 out of 10 children have not received full vaccinations with some having received as low as just one vaccine.
The data also showed that 19 per cent of children, aged 12-23 months, are not vaccinated at all. A review of the childhood vaccination trend of children, aged 12-23 months in Nigeria, revealed that in the past 15 years (2003-2018), there has been an improvement in the percentage of children that have received all basic vaccination or have been vaccinated at all.
For instance, the percentage of children that have received all basic vaccinations increased from 13 per cent in 2003 to 31 per cent in 2018. Similarly, the percentage of children that have not received vaccination decreased from 27 per cent in 2003 to 19 per cent in 2018.
While this indicates a positive trend, Nigeria still has a lot to do to meet Sustainable Development Goal 3's target of achieving more than 90 per cent coverage of all basic vaccinations among children aged 12-23 months.
Nigeria's childhood vaccination coverage also falls short of Global Vaccine Action Plan (GVAP) targets, putting a large number of children at risk of death and vaccines – a preventable diseases in the future.
According to public health experts, to improve immunisation coverage among children in Nigeria, it is important that Nigerians are convinced of the necessity of vaccination. They said there is the need for an ongoing communication efforts on the benefits of vaccines, which they decried has not been sufficient if people do not trust those providing the information and delivering vaccination services.
They said building trust usually starts by recognising the parents' concerns, identifying context-specific origins of mistrust, and constructing trusted spaces for community dialogue to address the origins of mistrust.
The Chairman, BIOVACCINE Nigeria limited (BVNL), Prof. Oyewale Tomori, said that different factors affect immunisation coverage in the country, stressing that Nigerians, in general, do not believe immunisation is necessary.
Tomori said that there is a need for immunisation services to be re-designed in the country, while considering hard-to-reach communities in consultation with the people living there, considering the local context, and avoiding constructing barriers to reach, such as geographic and social distance, cost, and timing.
He attributed some of the problems to health care provider barriers to immunisation, including lack of knowledge about indications for and contraindications to immunisations, poorly trained medical staff, and absence of a reminder system for missed vaccinations.
He, however, said that the opportunity and provision of vaccination empower a mother to protect her health and that of her child through her actions, giving an added psychological feeling of control and empowerment in her life.
"Therefore, while vaccination services can be delivered alone, they are best delivered along with other services that are needed by children in their first year of life and by pregnant women.
"These services may include, among others, child growth monitoring, use of oral rehydration to treat diarrhea, promotion of breast-feeding, malaria treatment, and maternal and child health services.," he explained.
The president, National Council of Women Societies (NCWS), Mrs Lami Adamu, said that despite the importance of immunisation for the health care of children and the mother, most women blindly refuse all for meaningless reasons.
According to Adamu, Vaccine hesitancy has long hampered global vaccination drives, which indicates that the drivers predate the pandemic. In poor, rural areas, health resources are often scarce. Doctors from the capitals or from abroad often oversee vaccinations.
She said that the histories of neglect and exploitation leave communities distrustful of outsiders bearing mysterious shots.
She said that it took another World Immunization Week for people to talk about the importance of vaccination.
"What happens after the week? We go back again as education and awareness on the deadly consequences of avoiding childhood vaccinations given to parents by healthcare providers should be intensified.
Also, there should be more programmes that provide support to new parents and educate them on parenthood to avoid being overwhelmed as a result of inexperience not only when we get to celebrate the week of immunisation," she stressed.
She said that the Government should ensure that all health facilities have vaccines for children.
"It's a pity when I hear people say they are looking for where to vaccinate their children, in this time and age. It's sad," she said.
Meanwhile, Khadija Hamid Bobboyi, Vaccine & Essential Drugs Associates, Africa Health Budget Network,(AHBN), said that with 25 countries reporting polio cases in 2021, even one case in any country would be worrisome since the Poliovirus can spread – and may already be circulating undetected.
Bobboyi said that trust in vaccines is built through conversation.
"During this World Immunisation Week (WIW), observed globally from April 24 to 30, all of us from AHBN encouraged Nigerians to reach out to their health care provider to begin the conversation and learn how immunisations can protect them and their families and their communities.
"When people say there is no evidence of a link to a vaccine, their self-denial of available evidence is all the evidence they need.
"As we commemorate world Immunisation Week, it is good to know that Immunisation is one of the world's most successful cost-effective health interventions.
"As Nigerians, let's take advantage of the routine immunisation made available in the country to ensure that our children are reached with life-saving vaccines," she said.