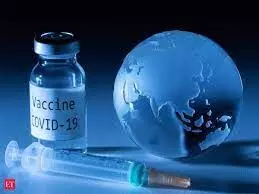 The WHO's goal is to have 70 per cent of each country's population vaccinated. Regrettably, Nigeria seems to still be lagging behind the projection.
Dr Tedros Ghebreyesus, Director-General, World Health Organisation (WHO), at the 2022 World Health Assembly, held recently in Geneva, Switzerland, warned that COVID-19 was not yet over in spite significantly drop of cases.
At that meeting of health ministers/representatives from 194 countries, he said that deaths were rising in Africa, while the continent has the lowest vaccination coverage.
According to him, 60 per cent of the world's population have already vaccinated, adding that one billion people in lower-income countries remained unvaccinated.
The WHO's goal is to have 70 per cent of each country's population vaccinated.
Regrettably, Nigeria seems to still be lagging behind the projection.
The National Primary Health Care Development Agency (NPHCDA), recently gave statistics of vaccination coverage in the country.
NPHCDA data showed that as at June 19, in the 36 states and the FCT, about 28,427,564 of eligible persons targeted for COVID-19 vaccination, were partially vaccinated, while 21,236,404 of eligible persons were fully vaccinated.
The proportion vaccinated was 25.4 per cent of the total eligible persons targeted in the country.
The agency added that striving to vaccinate 70 per cent of eligible population of every country remains essential to bringing the pandemic under control.
NPHCDA says that Nigeria is working hard to ensure that its citizens have access to the life-saving vaccines.
Some of the measures to meet the projection is involvement of traditional and religious leaders in sensitisation, education and bringing awareness about the disease and importance of vaccination.
An assessment tour of selected local government areas of Sokoto State, organised by the United Nations Children's Fund (UNICEF) showed that traditional rulers had key roles to play in mobilising the people to embrace vaccination against COVID-19 and other diseases.
At the palace of Sarkin Yaki Gagi (district head of Gagi) in Sokoto South Local Government Area, people of the area, gave testimonies how they were convinced by the district head, Alhaji Sani Umar-Jabbi to embrace vaccination.
Speaking through Yusuf Ladan, an interpreter, on the various interventions that were carried out to ensure the people were vaccinated, they said the Sarkin took it upon himself to ensure that the people got enough information about the myths surrounding vaccination.
Seventy-year-old Malam Mode Lambo, who spoke, said that before the arrival of the vaccines, the district head informed them of the dangers of the disease.
"So when I saw the district head take the vaccine, I had confidence to take it also.''
For 50-year-old Abbass Hassan, he did not even believe that the virus existed and thought it was a ploy to reduce the rate of child-birth.
He, however, said that as a result of the awareness and after witnessing the district head took the vaccine, gave him the confidence, adding that he and his family were now fully vaccinated.
"I am happy I took the vaccine because I would not have been able to travel to the United Arab Emirates (UAE) as there were travel restrictions on people who did not take the vaccine.
"However, with it, I was able to travel with ease because some people who did not take the vaccine were prevented from traveling."
On the part of 59-year-old Hajia Hauwa Yakin, she said that she heard rumours that the vaccine could kill, but upon being mobilised, she took it.
"I also took it because I was told that I would not be able to go for hajj if I did not take it, so I had to take it. However, I had fever for a day after taking the vaccine," she added.
As for 45-year-Sambo Umar, the decision to take the vaccine was as a result of awareness, which helped him to know the dangers of the disease and the importance of vaccination.
"Due to the awareness I have on health now, if the government comes up with other health interventions, I will subscribe to them because I am now informed and know that the government will not bring things that will harm us."
Forty nine-year-old Alhaji Sani Umar-Jabbi, who has been district head for 17 years, has three wards namely: Gagi A, B and C under his jurisdiction.
There are also village and ward heads with 40 community heads and four village heads coordinating various wards.
Umar-Jabbi said that as a district head, his main concern is to ensure that he supports all government interventions and programmes, in health, education, environmental conservation, climate change impact and mitigations and others.
According to him, it is part of his responsibilities as a district head to mobilise the communities under him to support and successfully implement government programmes and policies.
He said that for healthcare provision, any programme that is to be implemented in the community has to go through the gatekeepers and there were no better gatekeepers than the traditional rulers.
For COVID-19, he said there were many misrepresentations and myths which scared the people at the beginning.
"When I heard about the controversies surrounding the vaccine I was afraid to take it, but being close to development partners, I was encouraged to take it and when I made up my mind to take it, I was immunised with about 100 people supporting me.
"For the second dose, I invited many of my community members and about 116 people were immunised alongside me."
Umar-Jabbi said that before he took the booster dose, he launched a campaign which paved way for more women and traditional leaders participation, adding that they converged on his palace and took the vaccine there.
"All the traditional rulers and the people said that because the district head was vaccinated, they too would be vaccinated.
"So in my community, it is very difficult to see anyone reject it, they accepted it whole-heartedly and we do not have vaccine controversy.
"Also, because I was vaccinated and no one saw any danger happen to me, they gladly took it.
"There were so many misrepresentations about the vaccine, but they were all nullified and the reality is that the vaccine is safe and preventive and when they did a survey testing, no one tested positive of the virus in this community."
On the means of mobilisiing members of the community, he said they were through various outlets such as religious and social gatherings, where facilitators sensitise the people on development programmes and other issues.
"We deliver all of these messages during wedding fathias, naming ceremonies and international observance days."
Also in Gidan Kaya, Gwadabawa Local Government Area,the people also attest to the fact that sensitisation, awareness and proper education on the virus and the vaccination influenced them greatly.
Ladi Daure, 48, said that when she first heard about the virus, she did not pay much attention, but when she learnt of its deadly nature, she decided to take the vaccine.
"When they told us about the vaccine we did not just go and take it, they sat all of us down to educate us about the virus and told us the implication of not taking the vaccine.
"This motivated us to take it, so I took the two doses and I have my card as proof," she said.
For 53-year-old Buhari Mohammed, who is a member of the immunisation committee for polio, malaria, cholera and even COVID-19 in his community, it was not a new thing to him because he had been exposed to many healthcare interventions.
"A letter was sent to us from the Ministry of Health to the Primary Health Care (PHC) centre head and we all held a meeting and mobilised our people and created awareness on the importance of the vaccine.
"We really appreciate the help and support of development partners for always coming to Gidan Kaya to give our people vaccines," he said.
The Executive Secretary, Sokoto State Primary Health Care Development Agency (SSPHCDA), Mr Abdullahi Romo, said that at the last count, the state had attained 52 per cent COVID-19 vaccination.
Giving a breakdown, he said that about 72 per cent of the total target population took the first dose, while 68 per cent took the second dose.
For the booster dose, Romo said that the state recorded about 52 per cent.
"So we are happy that at least 52 per cent of the people that have taken the first dose are covered and of course people are still coming in gradually unlike before,'' he said.
Romo said that in getting the people to get vaccinated, religious and traditional leaders were engaged, while Jumaat service also featured talks on community health.
He added that town announcers were also engaged during naming and wedding ceremonies to keep on enlightening people on not only COVID-19 but on other health interventions generally.
"This facilitated people coming in to take the vaccine. We realised that it was because we engaged traditional and religious leaders who head committees at various levels.
"So, it made it easier to make the information trickle down and cause people to take the vaccine that was why we decided to intensify the functions and responsibilities of these committees."
Romo, however, said that the challenges COVID-19 posed was the social stigma associated with it.
According to him, people believed that the vaccine was aimed at reducing the rate of child-birth and this made them to engage the chief imams to let them know that was not the case.
"We told them it was not so, because if it was, the Sultan would not have accepted it and the governor too would not have taken it," Romo stressed.