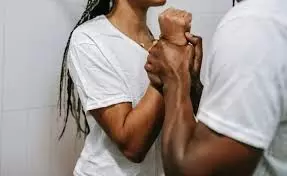 Poverty and illiteracy at the top the list of factors responsible for sexual and gender based violence and if the menace must be conquered, these twin challenges must be addressed.
Mrs Joy Michael (not real name) is a resident of Aso, outskirt of Abuja. A round black patch is visible on her right chick. The mark is a blood clot, the product of a beating unleashed on her by her husband during a heated argument over feeding money.
She is not alone in this situation. Every day, the media is filled with stories of women and girls who suffer one form of violence or another.
The United Nations defines sexual and gender based violence as "any act of gender-based violence that results in, or is likely to result in, physical, sexual, or mental harm or suffering to women, including threats of such acts, coercion or arbitrary deprivation of liberty, whether occurring in public or in private life."
Experts say sexual and gender based violence is a growing phenomenon in Nigeria and has become a source of concern to many stakeholders in human rights, mental health and general wellbeing of women and girls.
"Sexual and Gender Based Violence is one of the most widespread, persistent and devastating human rights violation of women and girls today.
"It has immediate, long term, physical, sexual and mental health consequences for women and girls affected," says Mr Matthias Schmale, the UN Resident Coordinator in Nigeria in Abuja at the launch of the landscape analysis' report of SGBV, Harmful Practices and Obstetrics Fistula.
Statistics from the World Health Organisation (WHO) is not palatable. According to the United Nations agency, globally, one in three women experience physical or sexual violence in their lifetime, perpetrated mostly by an intimate partner.
Citing a 2018 National Demographic Health Survey (NDHS), Onyinye Chime and her team of researchers said 33 per cent of women from 15 to 49 years in Nigeria have experienced physical or sexual violence.
They further say that 24 per cent of women have experienced only physical violence, 2 per cent have experienced only sexual violence, while 7 per cent have experienced both physical and sexual violence.
According to the lecturer at the Enugu State University College of Medicine and her team of scholars, aside from physical and sexual violence, other forms of violence reported by Nigerian women include; socio-economic and psychological violence, adding that although gender based has been increasingly recognised as a public health problem, it has been largely ignored.
The Country Representative of United Nations Fund for Population Activities (UNFPA), Ulla Mueller, painted a grimmer picture. According to her, about 10,000 Nigerian women suffer from all forms of Gender-Based Violence (GBV) on daily basis.
She spoke at the End Gender-Based Violence in Nigeria Summit, organised by the Nigeria Academy of Science and the Ford Foundation in Abuja.
Section 34 of 1999 constitution as amended provides that: "that every individual is entitled to respect for the dignity of his/her person and accordingly no person shall be subjected to torture or to inhuman or degrading treatment".
The Violence Against Person's Prohibition Act of 2015 was enacted to prohibit all forms of violence in private and public life; and provides the maximum protection and effective remedies for victims and punishment of offenders.
This law is applicable in the Federal Capital Territory, Abuja and domesticated by many other states, including Enugu, Oyo, Kaduna, Anambra and Bauchi.
Specifically, Section 19 (1) of the Act provides that " a person who batters his or her spouse commits offence and is liable on conviction to a term of imprisonment not exceeding 3 years or to a fine not exceeding N200,000.00 or both."
Also, subsection 2 provides that: a person who attempts to commit the act of violence provided for in sub-section(1) of this section commits an offence and is liable on conviction to a term of imprisonment not exceeding 1 year or to a fine not exceeding N100,000.00 or both."
Unfortunately sexual and gender based violence has thrived in spite of laws both at the national and state levels that prohibit them and prescribe punishments for offenders.
Poverty and illiteracy at the top the list of factors responsible for sexual and gender based violence and if the menace must be conquered, these twin challenges must be addressed.
This position has been acknowledged by the Minister of Women Affairs, Mrs Pauline Tallen while speaking in Abuja through the Permanent Secretary in the ministry, Mr Olufunso Adebiyi, at the presentation of statistical tool for data gathering on Gender-Based Violence Case Information Management System.
She other factors include traditional practices, girl child marriage, social inequalities that tilt towards men.
This perspective is supported by the Council of Europe which argues that "Patriarchal and sexist views legitimise the violence to ensure the dominance and superiority of men.
"Other cultural factors include gender stereotypes and prejudice, normative expectations of femininity and masculinity, the socialization of gender".
From religious perspective, the council posits that religious and historical traditions have sanctioned the physical punishment of women under the notion of entitlement and ownership of women.
Legally speaking it argues that "being a victim of gender-based violence is perceived in many societies as shameful and weak, with many women still being considered guilty of attracting violence against themselves through their behavior," adding that "this partly accounts for enduring low levels of reporting and investigation".
Against the background of its extensive effects of the victims and the entire society, the war against sexual and gender based violence is one that must be won.
It dehumanises them, its impact on their psychology is enormous, imposing inferiority complex on victims. Its impact on their mental health is far-reaching.
At the presentation of Landscape Analysis report on Sexual and Gender-Based Violence, Harmful Traditional Practices and Obstetrics Fistula at the State House Banquet Hall, Abuja, Mrs Dolapo Osinbajo, Wife of Vice President Yemi Osinbajo, called for zero tolerance against the menace.
"Stand up for the girl that is chased around the office table by her superior, at work. "What do we want? Advocate for punishment for the crimes, not only for help for the survivors,'' she told her audience.
In Anambra, traditional rulers have already keyed into the war. During a recent town hall meeting on the problem, The Chairman, Anambra Central Traditional Council, Igwe Christopher Okpala, condemned some harmful traditional practices against women, insisting that the situation must change.
A Cleric, at the meeting, Prof. Boniface Obiefuna, said that the religious institutions have a role to play in addressing the problem by being committed to preaching equity and fairness rather than hiding under the Holy Books to promote inequalities.
Obiefuna also urged parents to raise their children and wards in a manner that they would respect others' rights and be responsible citizens.
A sociologist, Isma'il Mshelia, argues that in addition to every member of the society contributing his or her quota to end the problem, institutions involved in the fight must in strengthened to enable them deliver.
Mshelia, a lecturer in the department of sociology, University of Abuja, in a study submitted that " The personnel across all the agencies should as well be equipped with modern gadgets and should be well trained in line with global best practices of maintaining law and order hinged on the ideals of equality before the law, freedom and justice."
A just society is one in which everybody feels safe and secured irrespective of gender. The war to make our society safe for women and girls is one that must be one. It is possible through team work.