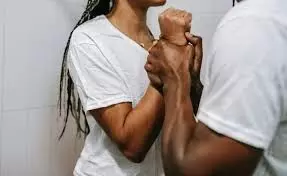 Stella Ojemen urged women to be conscious of their rights, speak out when being maltreated, and stand against any form of abuse.
Mrs. Lucy Peters (not her real name) is a 23-year-old single mother who was abandoned by her boyfriend after he impregnated her in 2020.
Her predicament started after she gave birth to her child in 2021. Her boyfriend told her that he was not ready for fatherhood and subsequently abandoned her.
To compound her problems, her parents, angered that their daughter got pregnant out of wedlock, also abandoned her. She had to take up a menial job to fend for herself and her baby.
Determined to fight back against her ordeal, the 23-year-old mother consulted an NGO, where she enrolled for free training on hairdressing.
The NGO, Global Women for Quality and Sustainable Development Initiative (GWSD), provides support for survivors of gender-based violence (GBV) in Edo State.
She was among 25 female survivors of GBV and abuse in Edo who were empowered on Oct. 4, 2022, with livelihood support equipment by GWSD.
The empowerment is the outcome of an 11-month training that was held from December 2021 to October 2022 under the theme "Mitigating Gender-Based Violence Against Women and Girls Through Protection Action in Edo South Senatorial District."
Over 200 survivors of GBV have been provided with various forms of support, which include temporary shelter, psychosocial, medical, and legal services, as well as skills acquisition.
The project has other components such as GBV awareness creation, advocacy, dialogue, and capacity building for relevant stakeholders.
It is funded by the European Union (EU) with support from the Agent for Citizen-Driven Transformation (ACT) through the British Council.
Its aim is to reduce the burden of GBV, which, in some instances, has left many women traumatized and frustrated about their future.
Speaking during the distribution of the empowerment kits to the beneficiaries, Dr. Mariam Kadiri-Ezelome, CEO and founder of GWSD, said the project was a success because of the funds and cooperation it gets from its partners.
"We want to appreciate our funders and stakeholders for giving us the opportunity to give succor to lots of GBV survivors in Edo.
"The project was a success because we exceeded our target of training and empowering 200 female GBV survivors."
"All the survivors were counseled; some were referred to the National Human Rights Commission; some got medical and legal support; others got technical empowerment to enable them to become self-sufficient," she said.
Speaking about challenges encountered during execution of the project, Kadiri-Ezelome said it showed that the police and judiciary needed to do more to get justice for survivors of GBV.
"Slow dispensation of justice for survivors of GBV is one of the challenges we encountered during the course of the project."
"A few of them that will struggle to get to the Criminal Investigation Department don't get the prompt attention. We want them to do more because Edo State has too many unattended cases in court.
Stella Ojemen, Coordinator, Child Protection Network, an NGO, said she was delighted because people who were screened and trained were eventually empowered with start-up materials.
She urged women to be conscious of their rights, speak out when being maltreated, and stand against any form of abuse.
Another stakeholder in mitigating GBV in Edo, Mrs. Onoriode Ezarevah, Demand Creation Representative, Society for Family Health, Benin, said it was heartwarming that women were beginning to speak out when abused.
Ezarevah attributed the new trend to the creation of awareness by NGOs, CSOs, and the media, urging more survivors of GBV to run to NGOs like GWSD to get protection and support when the need arises.
"It is a good thing that they are being empowered so that they can make a living for themselves and their children," she said.
According to another beneficiary of the scheme, who pleaded anonymity, the beneficiaries are all happy that they are being trained and given start-up packs to generate income for their upkeep.
"We appreciate all the sponsors of this initiative because most of us didn't have any source of income and, as such, faced abuse from our husbands.
"Most of us experienced domestic violence and abandonment because we were not financially empowered to take care of ourselves and our children."
"So this empowerment will go a long way in alleviating our plight by making us self-reliant; we can save for the rainy day," she said
Experts say gender-based violence is one of the most prevalent human rights violations in the world.
According to a 2021 UNFPA report, globally, an estimated one in three women will experience physical or sexual abuse in their lifetime.
According to 2021 World Health Organization data, approximately 736 million women have been subjected to intimate partner violence, non-partner sexual violence, or both at least once in their lifetime.
A 2020 United Nations Office on Drugs and Crime (UNDOC) report paints an even more shrieking scenario. According to the report, one woman is killed by her partner every 11 minutes.
Survivors of GBV need support to enable them to heal from the psychological trauma and have access to resources to help them care for themselves.
To this end, stakeholders should continue to collaborate in mitigating GBV through increased awareness creation, the provision of psychosocial support, the facilitation of justice for survivors, and empowerment.
By Joy Odigie