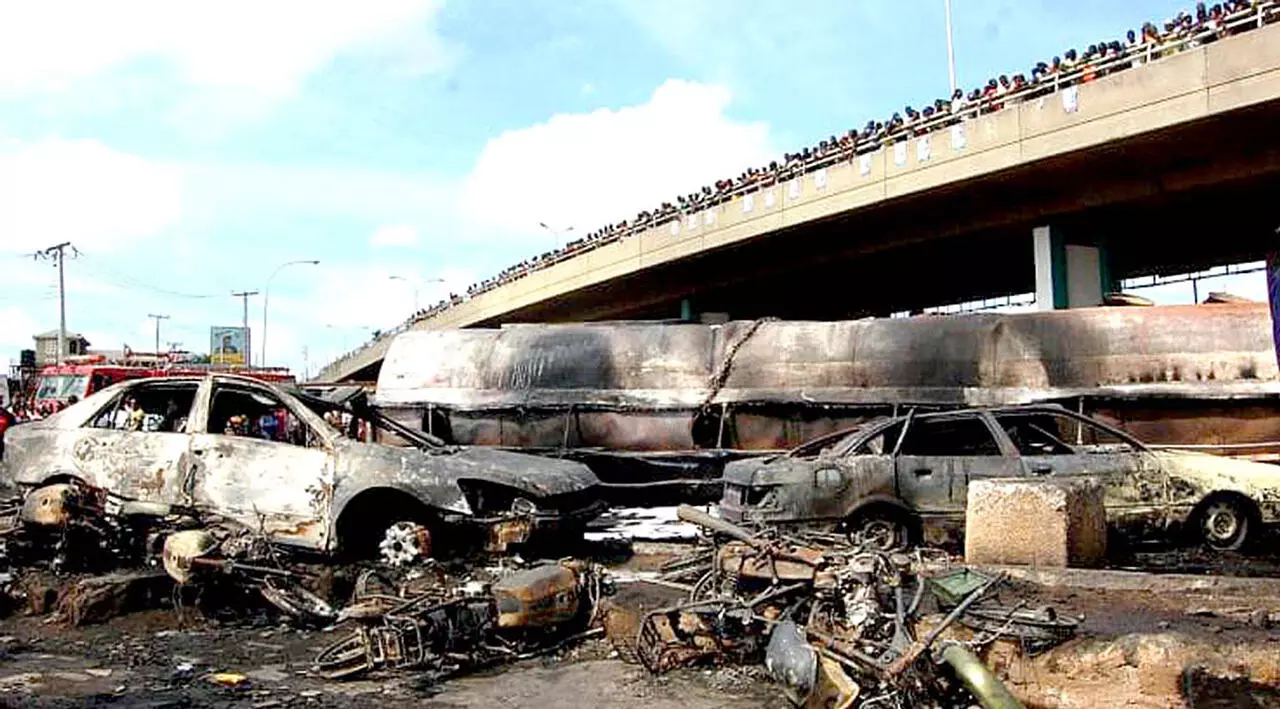 Aipoh also called for continuous training and retraining of tanker and trailer drivers to imbibe in them the imperative of adhering to traffic regulations and standards, so as to minimise the recurring tanker and trailer crashes in Nigeria.
The high rate of road traffic crashes and disorderly road traffic culture are critical problems consuming lives and properties in Nigeria, in spite of efforts by road safety marshals to restore sanity to the roads.
In recent years, the rate of traffic accidents involving tankers has become routine across the country, resulting in fatalities, property losses, and terrible traffic gridlock.
While some of the crashes have been blamed on bad roads, in most cases, they stemmed from violation of safety requirements and reckless driving.
There have also been growing complaints over the outdated state of most of the tankers plying Nigerian roads and the need to replace them.
Stakeholders also worry over the absence of modern safety devices such as safety valves, anti-skid, speed limiters, automatic emergency braking, and on-board cameras to monitor drivers' conduct during journeys.
The Federal Road Safety Corps (FRSC) has, however, spelled out the minimum safety features expected of tankers and trailers before plying Nigerian roads.
In the FRSC Safety Requirements and Guidelines for Articulated Lorries Operations in Nigeria, the vehicles must have a balanced air-braking system on all axles, a fall protection harness, and rear and side under-run protection.
Other safety features include, tank hatch and dome roll-over protection, stop, tail and wide turn lights, side and rear reflective tape, anti-lock braking system and fire extinguisher of 9kg dry chemical.
The document adds that at the loading point, FRSC officials are expected to, among other things, check for the tankers' brake accessories, brake air pressure, brake failure warning light, brake pedal, hydraulic brake fluid, parking brake, clutch, and delivery equipment.
The guideline also stipulates checks of emergency equipment: engine, fifth wheel, front axle, fuel system, horn, all lights, and reflectors.
Also included for mandatory checks are mirrors, a radiator, the driver's seat belt, the steering mechanism, the steering wheel, the suspension, springs, air bags, and controlling attachments, the on-board computer, the tank, and the tyres.
Unfortunately, most tankers on Nigerian roads are grossly deficient in these safety standards and ply the roads on a daily basis without being seized, thereby shooting up the statistics of crashes and losses.
In one of these accidents, which occurred on September 18, a total of 19 lives were lost on the Yangoji-Gwagwalada road in Abuja, while eight others were injured.
The accident involved an articulated vehicle and two 18-seater buses, which were consumed by fire after the crash.
According to Acting Corps Marshal Dauda Biu, the accident was caused by a speed limit violation and wrongful overtaking.
Another deadly traffic accident occurred on November 10 at Olofu Bridge along Ejule-Ochadamu Road in Kogi.
A total of 20 vehicles, including one truck, one tanker, 12 cars, and six motorcycles worth millions of naira, were completely burnt, while 11 people lost their lives.
Biu said poor vehicle maintenance led to the crash and subsequent inferno.
He urged fleet operators to step up routine and regular vehicle maintenance to help reduce, to a minimum, the incessant tanker crashes in Nigeria.
Biu also cautioned motorists to avoid excessive speed, wrongful overtaking, and other bad driving behaviors while on the roads.
"It is important to imbibe a safe driving culture," he said, and he enjoined road transport unions and owners to ensure rigorous training of tanker drivers on a safe driving culture.
He stressed that regular training and retraining of drivers was one of the antidotes to frequent road crashes and tanker explosions.
"We are charging them to start engaging their members in rigorous trainings so as to meet minimum safety standards concerning their vehicles.
"It is very important to train and retrain them to enable them to follow the rules and regulations," he said.
Truck owners, however, blamed human factors, bad roads, and a lack of access to finances as contributing to the poor state of their vehicles and attendant crashes.
The National President of the Road Transport Employers Association of Nigeria (RTEAN), Dr. Musa Mohammed, said during a recent visit to the corps marshal that as transporters, they take the issue of safety on the roads seriously.
"If everybody—the commuters, pedestrians, and transporters—understands clearly what should be done while on the roads, there will be sanity on our roads, and economic growth will be enhanced," he said.
Mohammed said RTEAN would continue to work with the FRSC and other stakeholders "for the purpose of achieving total sanity and encouraging a road safety culture in Nigeria."
The President of the National Union of Road Transport Workers, Mr. Tajudeen Baruwa, sought special funding from the Federal Government to install speed limit devices on all commercial vehicles.
According to Baruwa, the union members are not financially buoyant enough to afford the device.
"We don't have money; we are just managing ourselves; we are not rich; by the time we pay for fuel, pay for dues on the road, and repair vehicles, the money left with us won't even get us anywhere."
"But we will always try our best to comply with the rules and regulations, while we also need the federal government's intervention," he said.
A retired corps marshal, Dr Boboye Oyeyemi said overloading, lack of weigh bridges, use of old trucks, and inappropriate use of right trucks were largely responsible for tanker and trailer crashes.
According to him, most tankers on the roads are over 30 years old and not designed to be pulling 60,000 liters of petroleum products, hence a serious axle load violation.
"A tanker used to be designed for a 33,000-liter product; later, it was reviewed to a maximum load of 45,000 liters; now you see these tankers carry 60,000 liters or 75,000 liters."
"This is why our roads do not last up to the expected time.
"When some of these trucks are climbing, the capacity of the heads cannot pull the load they carry, so they end up drawing back and eventually hitting the concrete."
"Also, some of the trucks designed for oil rigs get converted to carry fuel on the highways," Boboye said.
The former corps marshal lamented that some agencies of the government are not doing their jobs as expected.
"There is an agency that is supposed to certify the tankers before allowing them to carry petroleum products."
"When agencies concerned are not doing what they are expected to do effectively, this is the price the nation pays."
"The absence of weighbridges on our roads led to this abuse."
"The same thing with the trailers: a trailer that is supposed to carry 600 bags of cement is seen carrying 1,000 bags of cement. "The pressure is on," he said.
Boboye stressed, however, that enforcement of traffic rules should be a collective responsibility.
He said that there should be more advocacy, enlightenment, and education on key issues of compliance with regulations, especially compliance with axle load specifications for articulated vehicles.
A road safety expert, Dr. Augustine Aipoh, said it was difficult to manage truck drivers due to their unruly driving behavior.
Aipoh, in his book titled "Efficiency in Trucking Operations," suggested that truckers should be made to ply only roads meant for them and work within specific hours of the day.
He said unless truckers ensure the provision of safety valves as provided in the FRSC regulations, tanker and trailer crashes on Nigerian roads would continue.
Aipoh also called for continuous training and retraining of tanker and trailer drivers to imbue in them the imperative of adhering to traffic regulations and standards, so as to minimize the recurring tanker and trailer crashes in Nigeria.
By Ibironke Ariyo