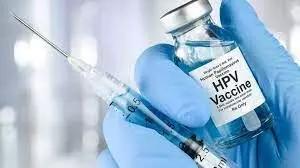 Experts say quadrivalent vaccines are designed to protect against four different types of disease, while HPV nonavalent vaccines protect against infection with low-risk HPV types 6 and 11.
Nigeria is no stranger to vaccine controversy. Some two decades ago, health authorities in the country had to contend with the rejection of the Oral Polio Vaccine (OPV) in many parts of the country.
Rumour mill had it that the WPV was a creation of the West to depopulate Africa by rendering them impotent from as young a age as possible.
So, the vaccine that was meant to save the future generation from the crippling effects of wild polio infection (WPV) was roundly rejected.
To overcome the OPV resistance challenge, the Federal Government and its development partners unleashed a battery of counterattacks in the rejection-endemic regions, mainly the north. They recruited traditional and religious leaders in the process.
At some point, they had to send a fact-finding team too Malaysia, a predominantly Muslim country and source of OPV vaccine for Nigeria, to convince sceptics that the government had no hidden agenda against Nigeria's Muslim population.
A similar resistance also greeted the COVID-19 vaccine. Again, conspiracy theorists said it was an instrument designed by the West to depopulate Africa. Many vowed to die from the rampaging COVID-19 rather than take the vaccine.
More than two years down the line, those who took the vaccine are still alive.
Vaccine sceptics have every right to be concerned. In 1996, in Kano State, Pfizer, a global pharmaceutical company, decided to test the efficacy of its meningitis vaccine on hundreds of children.
It turned out to be a fatal exercise, as 11 of the children died after taking doses of the oral antibiotic Trovan and the ceftriaxone trial vaccines. While five kids died from taking Trovan, six were victims of ceftriaxone.
After 15 years of legal battle, Pfizer was found guilty and had to pay 175,000 dollars to each family of the deceased children.
So, as the federal government and its development partners recently rolled out the human papillomaviruses, HPV, for short, for the prevention of cervical cancer, it is no surprise that it is facing a similar fate as the OPV and COVID-19 vaccines.
So far, some parents have refused to make their female children aged between nine and 14 available for the vaccine, even though the federal government and its development partners say all scientific efforts have been put in place to ensure the safety and efficacy of the vaccines.
In a video that went viral, a popular Abuja-based talk show presenter was seen warning parents to reject the vaccine, alleging that it was dangerous to their wellbeing.
Also, one social media user sarcastically urged those who want to vaccinate other people's daughters with HPV to first administer it to their daughters.
While some Nigerians question the safety of the vaccine, others who have lost their loved ones said their pain would have been averted if the vaccine was available when the victims were alive.
This is as the federal government and its partners embark on a mass campaign to vaccinate as many young women as possible.
However, there are many Nigerians who have lost close relatives to the disease.
One of them, who lost her mother to cervical cancer, Angela Usi, a businesswoman, narrated how her mother was in pain for two years before she died of the disease.
She said her mother did not attend her wedding because she couldn't survive cervical cancer.
Usi appealed to parents to allow their children to be part of the HPV vaccination to protect their lives.
According to the World Health Organisation (WHO), one of the arrow heads of the HPV campaign, there are six licenced HPV vaccines: three bivalent, two quadrivalent, and one nonavalent vaccine.
Experts say quadrivalent vaccines are designed to protect against four different types of disease, while HPV nonavalent vaccines protect against infection with low-risk HPV types 6 and 11.
WHO says all vaccines are highly efficacious in preventing infection with virus types 16 and 18, which are together responsible for approximately 70 percent of cervical cancer cases globally.
It says the vaccines are also highly efficacious in preventing precancerous cervical lesions.
The primary target group in most of the countries recommending HPV vaccination is young adolescent girls, aged 9–14. For all vaccines, the vaccination schedule depends on the age of the vaccine recipient.
Eduardo Celades, Chief of Health, UNICEF Nigeria, says the HPV `is something we have been looking for for a long time`.
Celades spoke in Abuja during one-on-one interviews with experts and key stakeholders involved in the rollout of the vaccine in Nigeria.
"Having these vaccines is an incredible entry point to start working with the young girls to really improve their data. So for us, this is the first thing that we would like to do," he said.
According to him, if vaccination rates have started to decrease or the number of people resistant to vaccines increases, it means putting at risk many years of hard work.
."We know it's approved not only by NAFDAC in Nigeria; it has been approved by the FDA in the U.S. and European medical agencies by the Swiss medical agency," he said.
Emily Kobayashi, Head of HPV Programme, Gavi, the Vaccine Alliance, said cervical cancer is a deadly disease, hence the need for young girls to receive the vaccine.
"If we look around the world, we see that every year 340,000 women die of cervical cancer, and 90 percent of those actually die in low- and middle-income countries, including countries like Nigeria.
"So, most women in the world are vulnerable to cervical cancer. It tends to affect women in the range of 35 to 55 which is when they're raising children, where they're working and contributing to society.
"So losing women at that time is challenging and it is also very challenging to treat cancer.
"It's very painful to live with, and it can be economically devastating to the patient and to the family. But the good news is, it is almost entirely preventable.
"So 90 percent of cervical cancer is associated with human papillomavirus infection, and with the vaccine, we've seen reductions of nearly 90 percent in vaccinated populations", she said.
Kobayashi said the vaccine is most effective if it's delivered before sexual initiation, which is when somebody could be exposed to the HPV vaccine.
"And so the WHO has recommended nine to 14. That is, to target the age range where it's well before sexual initiation.
On acceptance of the vaccine, she said there was high hope of acceptance because the WHO in Nigeria did a rapid survey.
"And what the people said was that even if they weren't previously aware of HPV, they were willing to have their daughters vaccinated.
"They're willing to support vaccination. So what we're hearing from the community is high rates of excitement and acceptance. So we're feeling hopeful," she said.
Dr. Chizoba Wonodi, Immunisation and Convener, Women Advocates for Vaccine Access, said it was important that civil society organisations were involved in efforts to dispel conspiracy theories about HPV and other vaccines.
"CSOs are important because they are the voice of the masses; they decide that they want to work with the communities with regard to passion and desire to see change happen in the communities.
"We train the CSOs about immunisation and give them some support to carry out their activities,' she said.
"The reason we are training them is to get them to understand about the HPV vaccine, cervical cancer, and how to engage the communities in dialogue and sensitization with them.
"If you are able to have a dialogue with community members, allow them to ask you questions, and respond to their concerns without judgement, then they will be able to make informed decisions,'' she said.
Mrs. Chika Offor, Chairperson of the Health Sector Reform Coalition and CEO of Vaccine Net for Disease Control, said no effort should be spared to mobilise parents to embrace the vaccine.
"How do we get the girls to get vaccinated? Good mobilisation, good planning, and good advocacy for the communities are required", she said.