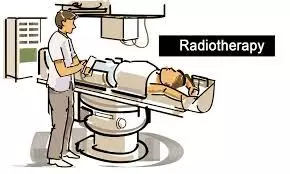 However, many LMICs, including Nigeria, lack the wherewithal to effectively manage the cancer burden, as they suffer from shortage of radiotherapy machine, a way of managing cancer, with only 10 per cent of patients in low-income and 40 per cent in middle-income countries having access to it.
Radiotherapy (RT), also called Radiation Therapy, is a cancer treatment that uses high doses of radiation to kill cancer cells and shrink tumours.
Cancer is a disease in which some of the body's cells grow uncontrollably and spread to other parts of the body, destroying body tissue.
Even though cancer can occur in any part of the body, the common types are that of the breast, prostate, colon, lung and leukemia.
RT is a fundamental component of effective cancer treatment and control, and it is estimated that about half of all cancer patients can benefit from it for the treatment of localised disease, local control and palliatives.
According to World Cancer Research Fund, there was an estimated 18.1 million cancer cases around the world in 2020, the latest year available, and out of the number, 9.3 million cases were in men and 8.8 million in women.
The annual global incidence of cancer is projected to rise to 25 million cases and 13 million deaths by 2035, with 70 per cent of new cases from Low and Middle-Income Countries (LMICs).
However, many LMICs, including Nigeria, lack the wherewithal to effectively manage the cancer burden, as they suffer from shortage of radiotherapy machine, a way of managing cancer, with only 10 per cent of patients in low-income and 40 per cent in middle-income countries having access to it.
The scarcity of radiotherapy machines in the country, therefore, calls for concern, and correcting it requires a multipronged approach that addresses the specific needs of the country.
Radiotherapy is an essential, cost-effective treatment for cancer and its availability in the country should be given priority, alongside management interventions for other common diseases and conditions.
According to the World Health Organisation (WHO), more than 50 per cent of cancer patients require radiotherapy as part of care, as it is frequently used to treat the most common types, such as breast, cervical, colorectal and lung cancers.
The 2018 Global Cancer (GLOBOCAN) statistics showed that there were 211,052 cases of breast, prostate, cervical, colorectum, and non-Hodgkin
lymphoma cancers in Nigeria.
GLOBOCAN is an online database that provides global cancer statistics and estimates of incidence and mortality in 185 countries for 36 types
of cancer, and all cancer sites combined.
Dr Adamu Umar, the President of Nigerian Cancer Society (NCS), who highlighted the importance of radiotherapy in cancer care, said that the proof of access is in the use of the service, not simply the presence of a facility.
He added that "to this end, other considerations such as availability of treatment, affordability and sustainability have to be considered when addressing the inequity in access to radiotherapy.
"The challenge is not only to increase access to radiotherapy but addressing financial, logistics and psychological barriers to cancer diagnosis and
treatment in the country."
According to Umar, the country has only 13 radiotherapy machines for its teeming population, and most of the machines in government healthcare facilities are not functional.
"We have nine radiotherapy machines that either belong to government or in a Public-Private Partnership (PPP) with government.
"We have seven across the federation – the National Hospital, Abuja ( NHA); the University of Nigeria Teaching Hospital, Enugu; University College Hospital, Ibadan; the Usman Danfodio Teaching Hospital, Sokoto; Ahmadu Bello University Teaching Hospital, Zaria; the Lagos University Teaching Hospital, Idi-Araba, Lagos.
"We also have one in Enugu and another one at the NHA, owned partly by the private sector and government. Again, there is one at the NSIA LUTH Cancer Centre, apart from the one in LUTH itself.
"We can say we have 13 when you consider the ones in private facilities like the Marcelle Ruth Cancer Centre and Specialist Hospital, Lagos; Duchess Hospital, Lagos; Me Cure Healthcare, Lagos; and other private facilities," he said.
He added that the problem with the machines in government hospitals is that most of them are not functional.
"Even those that are functional do not have the requisite staff to manage them, those staff that need extensive training are not trained adequately and when the machines break down, the parts will have to be imported into the country.
"In Nigeria, we should have at least 300 radiotherapy machines as opposed to the 13 that we have. So many African countries do not even have the machine but we have some, even though we are still struggling," he said.
The NCS president, however, added that there are ongoing state-of-the-art cancer centres in Maiduguri Federal Medical Centre, and state-of-the-art cardiovascular and cancer centres in Katsina and Rivers states.
He added that in Kwara, a philanthropist also donated money to the government for a cancer centre.
"Also, Gov. Abdullahi Ganduje of Kano is doing the same in the state but the problem is that we do not have enough resources. In the whole of Kano State, we have only one clinical oncologist," he said.
On her part, Dr Zainab Bagudu, the wife of Kebbi Governor and Founder, Medicaid Cancer Foundation (MCF), said "cancer is not a cheap disease to 'cure' as it costs millions of naira to treat."
Bagudu, who is also the Director, Union for International Cancer Control (UICC) and a Consultant Paediatrician, said that one cancer patient in the country required over N1 million for radiotherapy.
She added that "not many Nigerians can afford this high cost of cancer treatment, and this causes tremendous increase in the number of
deaths recorded yearly in the country."
The governor's wife, who stressed the need for continuous upward review of budgetary allocation for cancer in the country, advised that Federal Government should include procedure into the National Health Insurance Scheme (NHIS).
"If cancer treatment is covered under health insurance, diagnosis, treatment and care will be cheaper and accessible to everyone who needs it.
"The country's inability to make efficient its NHIS and expand it, particularly to the informal sector is affecting the country's health indices and would continue to keep it far away from attaining Universal Health Coverage (UHC).
"Most Nigerians are in the informal sector, especially those in the rural areas, the farmers, traders and market women," she said.
She said that to redress inequitable access, advocacy at all levels was needed for the acceptance of radiotherapy and the important role it plays in cancer control.
"The relatively high cost of setting up radiotherapy services needs to be balanced with the long-term benefits of having a well-proven treatment modality that can be accessible to a large number of patients at a reasonable cost.
"Low healthcare funding in the country is a possible hindrance to access to radiotherapy," she said.
Also, Ms Zainab Ahmad, the Executive Director, Youth Society for the Prevention of Infectious Diseases and Social Vices (YOSPIS), made case for Sugar-Sweetened Beverage (SSB) taxation.
Ahmad described the tax as an effective and evidence-based approach to tackling cancer, Non-Communicable Diseases (NCDs) and promoting public health.
She said that SSB consumption contributes to obesity, a risk factor for cancers.
She said that a penny-per-ounce national SSB tax is cost-effective for cancer prevention in the country, with the largest health gains and economic benefits among low-income Nigerians.
Meanwhile, Prof. Francis Durosinmi-Etti, Professor of Radiation Therapy and Oncology at LUTH, said even though the radiotherapy machines available in the country are not enough, there is hope for cancer patients in the country.
"More cancer centres are being established and the private sector is getting involved in the treatment of cancer. Gradually, we will get there someday," Durosinmi-Etti said.
According to him, fighting cancer requires team effort as it is not just one man's business.
He added that "medical experts should come together, involve other specialists and also involve the patients, this way, the disease can be handled better and even cured if diagnosed early."
He also called for increased awareness by government, Non-Government Organisations and the citizens, saying that the level of information about cancer is low.