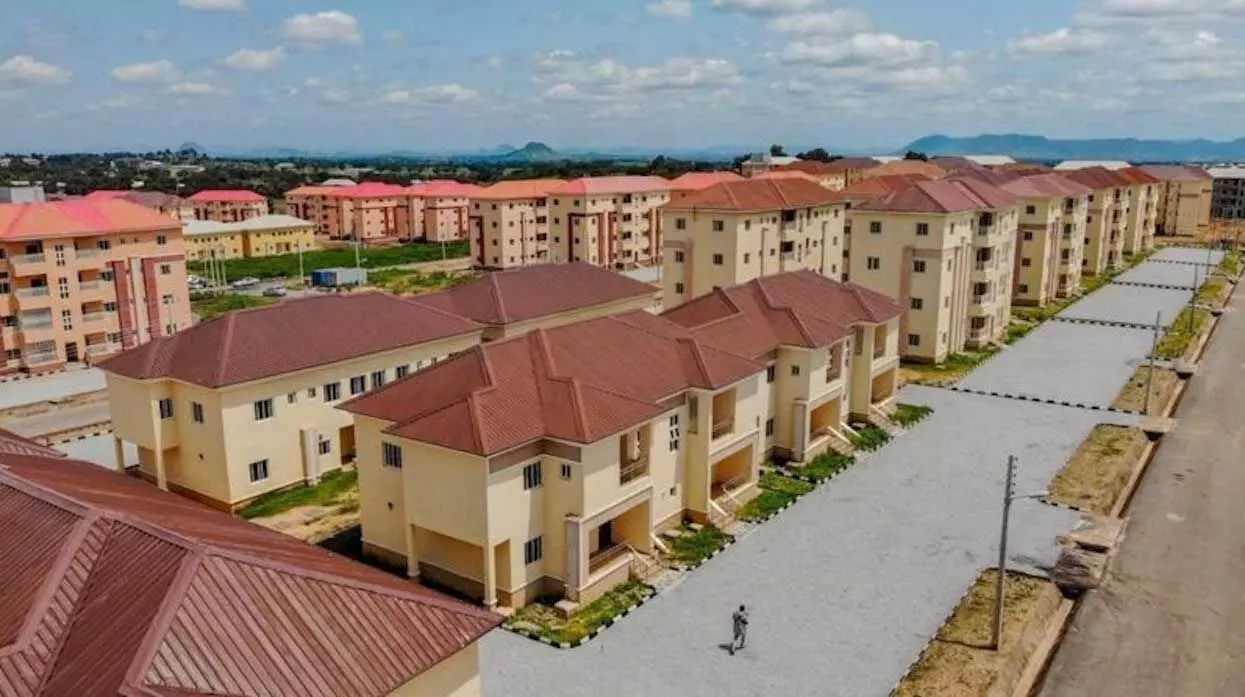 Experts say Nigeria will need to deliver one million housing units every year to bridge the gap.
In the range of man's needs, shelter comes next after air and food. For dignity, having a place to live becomes a priority in the hierarchy of necessities.
To this end, the world over, governments make meeting the housing needs of the citizenry a key factor in their agenda.
The present administration of President Muhammadu Buhari, has taken certain steps to meet the housing needs of Nigerians by initiating the National Housing Programme (NHP).
The government, through the Ministry of Works and Housing, initiated partnership with state governments and other stakeholders to develop and deliver affordable houses to Nigerians nationwide.
Although, the target of ensuring that every Nigerian is properly housed has not been fully met, the efforts of government have started yielding results.
A recent report by report on Nigeria's housing sector by Bank of Industry (BOI) estimates Nigeria's housing deficit at 28 million, a figure that requires N21 trillion to address.
According to the report, however, N470 billion was what the Federal Government budgeted for housing in 2022.
Experts say Nigeria will need to deliver one million housing units every year to bridge the gap.
Declaring the event open, the Vice-President, Professor Yemi Osinbajo, promised that the Federal Government would accelerate its housing programmes, with pledging that the Federal Government would deliver over 50,000 homes by 2023.
Osinbajo said this at this year's Africa International Housing show themed: "Housing For All, The Role Of Governments In Creating An Effective Enabling Environment".
Part of the efforts to meet that target was witnessed in Kano in June when government officially handed over keys to four beneficiaries who have paid for houses built under the first phase of the National Housing Programme (NHP) in Kano, Kano State.
The Minister of Works and Housing, Mr Babatunde Fashola, was represented by the Permanent Secretary, Mr Bashir Alkali.
"While we welcome those who can afford to pay outright, it is not a condition for eligibility.
"We have offered flexible payment options like Mortgages and Rent-to-Own which we encourage applicants to pursue.
"Some of the requirements for qualification to access these include – current passport photograph in JPEG or PNG format; most recent copy of your current tax clearance/pay slip in PDF format.
"Means of Identification (National ID, Driver license, International Passport) in digital JPEG format; Letter of recommendation from any Primary Mortgage (for Mortgage Subscribers) and Evidence of 10 per cent initial payment deposit (for Mortgage Subscribers only)," he said.
"The beneficiaries today are therefore among the first set of Nigerians other than the 1994 Super Eagles who have been handed the keys to their houses promised by the Federal Government over 28years ago."
Also speaking, Alkali, represented by the Director, Public Building and Housing Development, Mr Solomon Labafilo, said the philosophy behind the NHP was the provision of pilot scheme that is affordable, accessible and acceptable in line with the National Housing Policy.
"The approach to the design and use of materials take cognisance of the cultural and climatic peculiarities of the regions, while responding also to the tenets of the Building Energy and Efficiency Code (BEEC) being championed by the ministry," he said.
According to the Director, Housing Development/Public Building in the ministry, Mr Solomon Labafilo, government has delivered in 35 states of the federation and the FCT.
According to him, the breakdown is as follows: Phase 1 = 2728 Units, Phase 2 = 2254 Units and Phase 3 = 964 Units, totaling 5,946 Units.
He said another set of 2665 housing units available for subscription by the public through: https//nhp.worksandhousing.gov.ng.
On its part, the Federal Mortgage Bank of Nigeria (FMBN) said it has initiated Rent-to-Own housing scheme to enable everyone that is a contributor to the National Housing Fund (NHF) to be able to own a home of their own.
According to Mr Lawal K-Sauri, the General Manager, Corporate Communication, FMBN, the Rent-to-Own housing product is an innovative affordable housing product, which provides an easy and convenient payment plan towards homeownership for Nigerian workers.
"FMBN developed the rent-to-own housing product as a strategic response to the inability of low income contributors to the National Housing Fund (NHF) scheme to meet the equity down payment requirement for accessing the NHF Mortgage loan.
"To enhance affordability, the rent-to-own product eliminates the need for a down payment. The FMBN rent-to-own product makes it possible for Nigerians to move into FMBN funded homes – located nationwide – as tenants.
"They pay for and own the property through monthly or yearly rent payments spread over periods of up to 30-years at best market single-digit interest rate of 7 per cent on the price of the property on an annuity basis," he said.
K-Sauri also said that FMBN currently had over 3,190 housing units available for off-take on a rent-to-own basis across several locations nationwide.
Some of these houses, he said are located in FMBN-funded estates in FCT Nasarawa Akwa Ibom, Ondo Enugu, Kogi, Adamawa, Sokoto, Borno, Jigawa, Abia, Katsina, Ogun, Kwara, Kano, Taraba, Niger and Kaduna states.
"You can visit them to confirm and also see the beneficiaries. We currently are building mega cities in collaboration with some developers like Brain and Hammers.
"About 1,200 housing units are almost completed which is funded by the bank at Jibi behind the police housing estate in Kubwa,'' he said.
One of the beneficiaries of the housing interventions, Mr Farouk Adamu, who is a retired civil servant, said the gesture had made ownership of houses easier for workers.
"Anyone who says that he has used influence to obtain the house I will tell him it is not true. We applied through the portal that the ministry opened. We were lucky to be selected.
"This is what Nigerians are waiting to see, especially the less privilege citizens to get things without lobbying for them or having to know one big man or the other," he said.
Another beneficiary, the Manager of Spray well & Finch Solutions Ltd., Mr Henry Obi also said he got his allocation without having to lobbying any government official.
Although the Federal Government intervention has not provided housing for every Nigerian that needs it, stakeholders say with the evident increased government's commitment, thing will only get better for Nigeria.