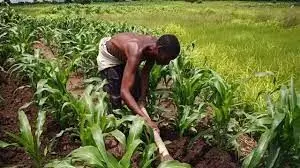 Climate change has far-reaching impacts on agricultural productivity, which poses a threat to food security.
At the inception of President Muhammadu Buhari's administration in 2015, he expressed the determination to tackle food insecurity and ensure economic diversification by aggressively developing the agriculture sector.
The idea, according to Buhari, is for Nigerians to grow what they eat and eat what they grow.
We must grow what we eat and eat what we grow.
On July 15, he reiterated through his confirmed twitter handle @MBuhari.
Over the years, the Federal Government has invested huge sums of money in various agriculture intervention initiatives.
The need to have safe and climate-smart agricultural practices has also been on the front burner.
Studies have found that climate change has far-reaching impacts on agricultural productivity, posing a threat to food security in Northern Nigeria.
The research published in Science Direct entitled Agriculture and food security in Northern Nigeria, part 1: The implications of climate change draws a nexus between agriculture and climate change.
The work, which is co-authored by eight scholars, emphasizes that factors such as heat waves, droughts, floods, wildfires, higher temperatures and rainfall variations are making the agriculture ecosystem very vulnerable.
One of the authors, Amos Abimbola, a pharmacist at the department of pharmacy at Afe Babalola multi-system hospital, Ado-Ekiti, said that mitigating the effects of climate change was key in ensuring food security.
"Climate change has far reaching impacts on agricultural productivity, which poses a threat to food security."
"National food security is not only dependent on both adequate food production and the availability of food but also access, utilisation and stability of foods.
Therefore, there is a need to examine the impacts of climate change on food security in Northern Nigeria, thus providing pieces of evidence for policymakers to take action and promote a sustainable solution, "said Abimbola, who is also a visiting lecturer at the University of Ibadan.
The challenges of global warming and climate change have further amplified the need for farmers to adopt eco-friendly farming practices to ensure sustainability and reduce greenhouse gas (GHG) emissions.
According to a report from the United States Environment Protection Agency (EPA), worldwide, 24 per cent of GHG emissions come from the agriculture industry.
The emissions usually come from the burning of forests to clear land for pastures and fields, running farm equipment for planting and harvesting and transporting agricultural products, among others.
A recent World Bank report alluded to this, saying agriculture currently generates about 19 to 29 per cent of total GHG emissions.
It warned that without sustained action, the percentage could rise substantially as other sectors reduce their emissions.
Experts say there is a rising awareness about the harm caused by large-scale agriculture to the environment due to various harmful farming techniques.
Prof. Ademola Adenle, a visiting lecturer at the Technical University of Denmark, urged the Federal Government to focus on implementing agricultural policies that emphasise climate smart agriculture.
"The Nigerian government should focus more on implementing agricultural policies primarily targeting large scale adoption of climate smart agriculture."
"This includes solar irrigation, biotech crops and sustainable soil management practices to increase agricultural productivity."
"This will also improve food security and quality of life as well as make farmers more resilient to climate change impacts," he said.
According to Statista, a German company that specialises in market and consumer data, as at 2020, live cattle in Nigeria amounted to 20.7 million, but Nigeria still spent about $2.5 billion on milk importation the same year.
To this end, Arla Foods is building a Danish-designed, state-of-the-art commercial dairy farm in Kaduna State, as part of efforts to boost local milk production in Nigeria with minimal harm to the environment.
According to Mr. Peder Pedersen, Managing Director, Arla Foods Nigeria, the 200-hectare farm, when operational, will house about 400 dairy cows with modern facilities.
He said the partnership with the Kaduna State Government and MILCOPAL, a dairy farmer, cooperative in the state will open new vistas in Public- Private-Partnership (PPP)
"Developing the local dairy sector is an important part of our business in Nigeria and a central part of Arla's Global Sustainability strategy."
"We will only be successful in the long term if we work together with local farmers to create a viable and sustainable dairy business."
"We are committed to growing responsibly in Nigeria and we have reached an important milestone in establishing our commercial Arla Farm in Damau," Pedersen said.
Mr. Snorri Sigurdsson, the farm's management expert, expressed optimism about the farm blazing the trail in eco-friendly production in Nigeria.
Scholars such as Adenle and Oladunni advocate that with more integrated and technologically driven agriculture, including dairy farming and ranching, Nigeria will be on the path to attaining food security.
The experts also believe this will go a long way in addressing the country's perennial farmer-herder clashes, which are exacerbated by climatic factors.