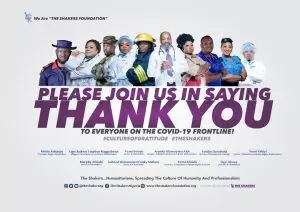 The Shakers Foundation, a coalition of showbiz personalities have commended the Federal Government and front line health workers in their battle against the COVID-19 pandemic.The group gave the commendation in a statement in Lagos by its Head, Media Communications, Mr Smart Okotie.Supreme reports that the Shakers Foundation is made up of celebrities in the sports […]
The Shakers Foundation, a coalition of showbiz personalities have commended the Federal Government and front line health workers in their battle against the COVID-19 pandemic.The group gave the commendation in a statement in Lagos by its Head, Media Communications, Mr Smart Okotie.Supreme reports that the Shakers Foundation is made up of celebrities in the sports and entertainment industries.They include; Mutiu Adepoju (ex-Super Eagles);
Yemi Solade (Actor &Film-Maker); Ugochukwu Stephen (Ruggedman- Rapper & UN Peace Ambassador); Foluke Daramola (Actress).Others are: Aralola Olamuyiwa (Singer Talking Drummer and Culture Ambassador); Saheed Mohammed (a.k.a Funky Mallam-Actor,Comedian); Kemi Afolabi (Actress, Film-Maker and Human Rights Activist); Oge Okoye (Actress and Film-Maker).Also in the team were; Murphy Afolabi (Actor and Film-Maker); and Yomi Fabiyi (Actor, Film-Maker and Human Rights Ambassador).
They praised the unwavering spirit and endurance of COVID-19 front line health workers as they sustained the fight against all odds.The statement commended the doggedness of the doctors, nurses, fire-fighters, soldiers, policemen and other essential service providers, who worked tirelessly all through the lockdown period and beyond." The advent of COVID-19 brought out the best in many Nigerian professionals, the active members of the Shakers Foundation described the loss of several lives to COVID-19 as heartbreaking!"
We use this medium to formally express special gratitude to all Nigerian professionals who worked relentlessly at great risk to their lives at the frontline of the marathon battle against COVID-19." The Shakers Foundation shares an undying dream of a vibrant and prosperous Nigeria with millions of fellow Nigerians spread across our blessed national landscape, we are a multi-cultural family." Our commitment is to Nigeria's positive evolution, in which we engage in activities that resonate with the safety, protection and enhancement of Nigeria's human capital," it added.
The group lauded the selfless contributions made by prominent Nigerians, businessmen and nonprofit organisations in the fight against the spread of COVID-19.They also appreciated the Federal Government, State Governors; and Local Government Chairmen, for all they had done to curb the spread."
The statistics recorded for COVID-19 related deaths in Nigeria testifies to the efficiency and effectiveness put in by the spectrum of Nigerian professionals who were duly mobilised against the pandemic by government." We express our gratitude to companies and all kind-hearted Nigerians of means who made selfless donations to the anti-COVID-19 cause, we thank you all."
The world is still stuck in the battle against COVID-19, businesses have shut-down, schools are closed; economies struggling in meltdown mode; families in distress; societies apprehensive and confused." COVID-19, like all other challenges that have been defeated by mankind will, in due season be an experience of the past, our hearts pour out to all who have lost loved ones to the disease," the statement said.
The Shakers Foundation was established for the express purpose of facilitating humanitarian and development efforts in Nigeria." Our membership is comprised of persons whose presence, passion and sustained popularity in the Nigerian limelight rest on the love given by Nigerians from all strata of society." We thank all Nigerians for their love and reiterate our dedication to reciprocating to the best of our ability for as long as we live," the celebrities said