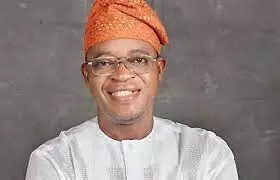 He said this was borne out of the ministry's desire to capture a substantial share of the estimated $10 billion annual ship charter market.
The Minister of Marine and Blue Economy, Mr Adegboyega Oyetola, says the ministry will consider the re-establishment of a National Shipping Line through the Public-Private Partnership (PPP) arrangement.
Oyetola said this at the maiden stakeholders roundtable engagement on Advancing Sustainable Development in Nigeria's marine and blue economy on Tuesday in Lagos.
He said this was borne out of the ministry's desire to capture a substantial share of the estimated $10 billion annual ship charter market.
"This initiative is not to impede the growth of local players but to provide an avenue for them to create and extract more value from the sector, especially through ship construction, maintenance and repairs.
" This will enable our local businesses to better leverage the Carbotage Act, which gives Nigerians the exclusive right to control locally generated seaborne trade," he said.
Oyetola who admitted that he was aware of the sector's vast unique challenges assured his commitment to turn around the sector.
"Our ministry though new, is not resting on its oars and has continued to foster inter-agency collaborations and implement initiatives to promote port efficiency, cargo shipment, maritime security and tap into the resources of the seabed.
"The stakeholders' engagement will be the first in its series since it is important that we normalise this harmonious synergy and work together to ensure that our industry is safe, reliable and sustainable.
"It will also bring together players in the sector to discuss and chart a roadmap/direction that will advance the industry's potential, promote sustainable blue economy investments and ensure global competitiveness within the sector," he said.
Oyetola said the roundtable would harvest ideas to form a roadmap and policy directions in areas such as blue governance; transforming port operations; enhancing port infrastructure; and promoting blue economy investments.
"This roadmap is designed in a way to enable our ministry fulfil its mission of formulating and implementing policies, programmes and initiatives that will facilitate the development of an inclusive Marine and Blue Economy Ecosystem.
"This ecosystem will be driven by an operating environment that meets global best standards as well as fulfil its vision of positioning Nigeria as a premier maritime nation," he said.
Also speaking, Dr Magdalene Ajani, the Permanent Secretary, Federal Ministry of Transportation, said the event was designed to showcase the policy direction of the Ministry of Marine and Blue Economy.
Ajani added that it was organsied to share the blueprint of operations of the new ministry to the stakeholders.
She noted that the event would develop the much-needed synergy between the private and the public sectors.
According to Ajani, the maritime sector is a major source of revenue earnings for the country, an enabler of trade and a key engine of economic growth and sustainable development.
"Nigeria is blessed with so much aqua and so has an extensive Exclusive Economic Zone (EEZ) making it a natural hub for shipping and international trade for most landlocked neighbouring nations in West and Central African region.
"Our maritime industry is also blessed with many experts including indigenous ship owners, terminal operators, freight forwarders, shipping lines, barge operators, maritime lawyers, stevedoring companies, and others who have paid huge sacrifices," she said.
Ajani said the engagement would enable the stakeholders to present their challenges and jointly brainstorm on the solutions.
"This is with a view to charting a roadmap for a maritime industry that is sustainable technological advanced and innovative.