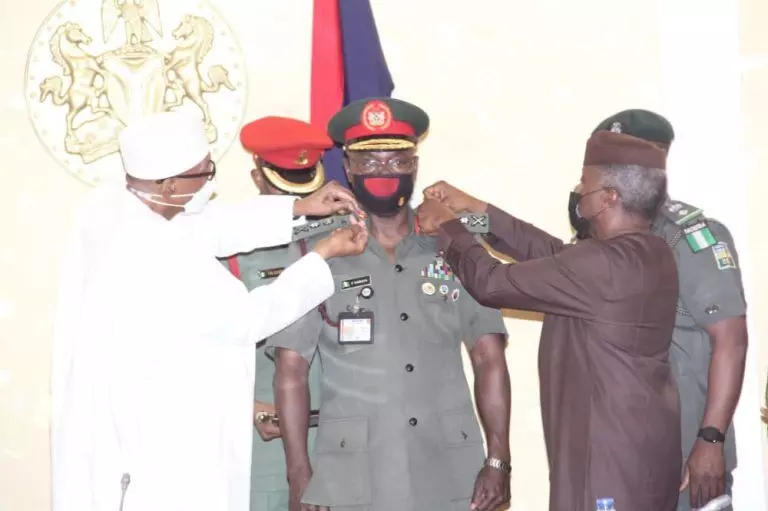 President Muhammadu Buhari on Wednesday, elevated and decorated the Chief of Army Staff (COAS) Maj.-Gen. Faruk Yahaya with new rank of Lieutenant-General (Lt.-Gen.) The Director, Army Public Relations, Brig.-Gen. Onyema Nwachukwu, announced this in a statement on Wednesday in Abuja. Nwachukwu said the decoration followed screening and confirmation of Yahaya by the Senate and House […]
President Muhammadu Buhari on Wednesday, elevated and decorated the Chief of Army Staff (COAS) Maj.-Gen. Faruk Yahaya with new rank of Lieutenant-General (Lt.-Gen.)
The Director, Army Public Relations, Brig.-Gen. Onyema Nwachukwu, announced this in a statement on Wednesday in Abuja.
Nwachukwu said the decoration followed screening and confirmation of Yahaya by the Senate and House of Representatives in line with constitutional provisions.
He said the COAS expressed his appreciation to the president for appointing him to serve and command the Nigerian Army as the 22nd COAS.
According to Nwachukwu, the COAS pledge to discharge his duties professionally and diligently with utmost respect for fundamental rights of the citizenry.
"Lt.-Gen. Yahaya also assured the president of his loyalty to the constitution and government of the Federal Republic of Nigeria.
"Present at the event were Vice- President Yemi Osinbajo, Minister of Defence, retired Maj.-Gen. Bashir Magashi, Chief of Defence Staff, Gen. Lucky Irabor, wife of the COAS, Mrs Salamatu Yahaya and other senior government officials.
"The COAS, on arrival at the Army Headquarters after his decoration, was received by principal staff officers, who felicitated him on his decoration.
"They also presented him with a customised congratulatory card for his elevation to the enviable rank.
"This ceremony took place after he had inspected a regimental Special Quarter Guard mounted in his honour.
"It is a cherished military tradition that is symbolic to signpost the significance of his arrival in Army Headquarters for the first time in the new rank since he assumed command on May 28," he said.