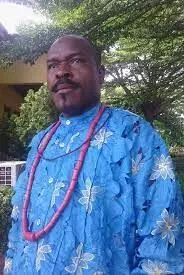 Ooh Africa! By Eliel: will be a perfect addition to the World Music SceneIt's a new sound being introduced into the bubbling music landscape…in Nigeria, in Africa and all over the world. The song, titled "Ooh Africa", is a Kokoma Culture genre by Eliel (pronounced "Iliel") ABOUT THE SONGThe song, " Ooh Africa", is a […]
Ooh Africa! By Eliel: will be a perfect addition to the World Music Scene
It's a new sound being introduced into the bubbling music landscape…in Nigeria, in Africa and all over the world. The song, titled "Ooh Africa", is a Kokoma Culture genre by Eliel (pronounced "Iliel")
ABOUT THE SONG
The song, " Ooh Africa", is a highlight of the precarious situation in Africa, where citizens live in poverty even amidst plenty…the obvious irony of existence. In three minutes and a few seconds, Eliel is able to identify bad policy as being responsible for the African plight. And as a line in the song goes:
"Our problem na "leadership" and "followership"
The music uniquely combines deep message and danceable fusion of highlife, calypso and kokoma rhythms, which Eliel tags "Kokoma Culture"
ABOUT THE ARTIST
Eliel is a popular Nollywood Actor, Writer and Director. And now, he is set to explore his musical prowess. Indeed, Eliel Otote A as popularly known, is an alumnus of the Royal Schools of Music, London, Colorado Film School, USA and the University of Nigeria, Nsukka.
He was the lead guitarist of "The Junior Orchestra Band" in the 80's, opening shows for the legendary Sir Victor Uwaifo. He also played with The Black Boys Experience, a resident band on NTA Benin's Music Panorama in the 80's. In the early 90's, he joined Shock Band. His own band, De Minstrels, performed severally at the monthly O'Jez Elders' Forum in the early 2000, courtesy of Benson Idonijie and Jahman Anikulapo. De Minstrels also earned credits in numerous Nollywood movies as music and soundtracks Producers.
So, get ready to enjoy this unique addition to the world music scene. Enjoy "Ooh Africa" by Eliel!
Available on all music streaming platforms from May 7, 2021.
For updates, follow Eliel on
Instagram: @elielotote
Facebook: Eliel Otote A
Twitter: @ELIELOTOTE
YouTube: Eliel Otote A dgn
www.elielonline.com